How to create new designs
In this article, you will learn how to create an InDesign document, and consider the features that Customer's Canvas supports.
New document
To create a new document, click File > New > Document. The Preset details panel will open, here you can set up a new document. Let's fill in the following properties to create a new one.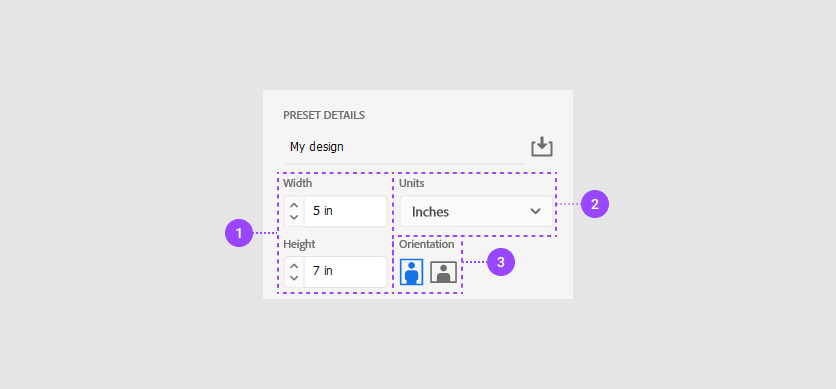 Width and Height. You can define the width and height for your design in these input fields.

Units. You can change the physical units, for example, to centimeters, millimeters, or inches.

Orientation. Customer's Canvas supports both the portrait and the landscape orientations.
These are necessary fields to create a new document. To consider other features, read the next paragraph.
Additional settings
Here, you will learn which settings from the Preset Details panel are supported in Customer's Canvas.
| Number | Setting | Support | Description |
| --- | --- | --- | --- |
| 1. | Pages | Yes | Customer's Canvas allows you to create multipage designs. |
| 2. | Facing page | No | If you select this checkbox, a spread will be represented as one page in Customer's Canvas. |
| 3. | Start # | No | Customer's Canvas doesn't import page numbers. They will start from Page 1 |
| 4. | Primary text frame | Yes | This text frame will be displayed as a regular text frame in Customer's Canvas, but threaded text frames are ignored. |
| 5. | Columns and Column Gutter | No | Columns are ignored. |
| 6. | Margins | No | Margins are ignored. |
| 7. | Bleed and slugs | Yes | Customer's Canvas imports both bleeds and slugs. |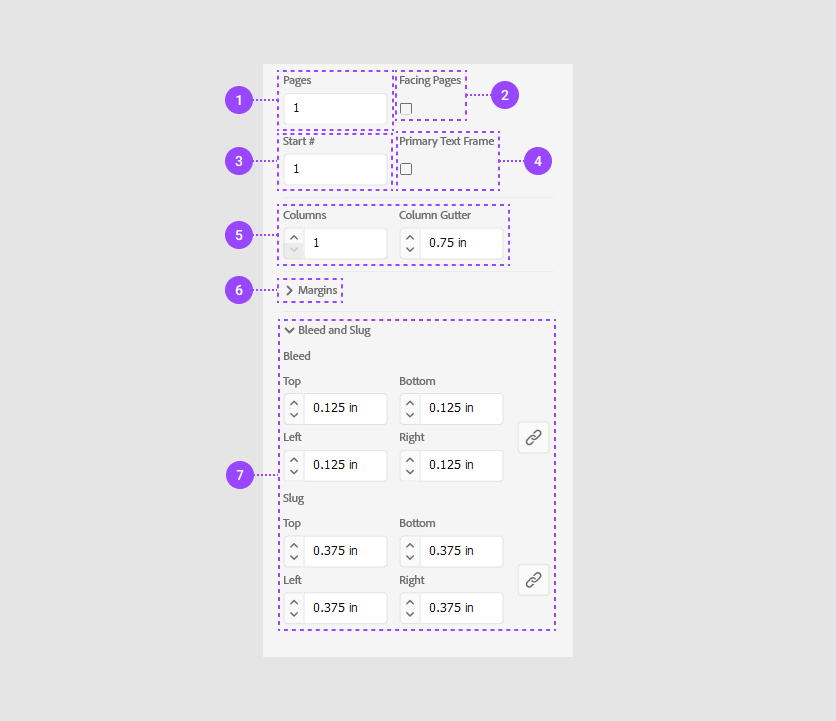 ---
Now you can create a new design. Read <designers-manual/adobe/indesign/how-to-create-designs/intro> article to learn more about design elements.