Troubleshooting InDesign import issues
It is easy to keep IDML files compatible with Customer's Canvas when you create them from scratch. However, you may already have a number of INDD files created by designers before they become aware of the way the systems work together. In this case, convert your templates to the IDML format as we described in Converting INDD to IDML article. Moreover, if you load those templates in the Design Editor, they might not look as you would expect.
Here is a list of the most common issues with IDML files and guidelines on how to address them.
Images Do Not Load
The Design Editor loads linked images if they are in the same folder as the IDML file or in the \Links\ subfolder.
Solution: First, verify that these images are in the required folders. If they are but still do not load, relink them in InDesign:
Open your IDML template right from the \designs\ folder.
Navigate to the Links tab and specify the correct path.
As an alternative, you can embed these images in the IDML template:
On the Links tab, right-click an image link, and then click Embed Link.
Ensure that image links have either the OK or Embedded status.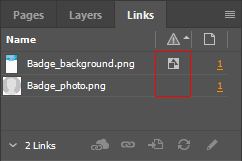 Only the First Page Appears in the Editor
When you define products through the surfaces array, the Design Editor loads only the first page from IDML files.
Solution: To open a multipage IDML template as a product, use the ISurfacesFromMultipageTemplate interface and set the file property to this multipage template.
Group Splits into Objects
The Design Editor ignores groups in IDML templates and parses group elements one by one. This may result in poor performance.
Solution: Paste groups into frames in your IDML template.
Anything Else?
If your template is displaying incorrectly, you can contact our tech team and send your zipped template to us. We will see what the problem is with it and suggest a solution.