Embedding the Design Editor
Let's look at the simplest scenario, when you open an editor on your site, upload a pre-set template to it, and right after editing, you get links to previews and print files.
Here, we describe two approaches: using the UI Framework (the recommended method) and the IFrame API JS library.
If this is your first time working with Customer's Canvas, we recommend turning to the UI Framework, especially if you plan to use it in different ways and in different places in your application. However, the IFrame API can be a simpler alternative, especially if you've already dealt with it and are migrating from a previous version of the Design Editor.
Adding Design Editor to the page
Step 1. Connect scripts to the page
First, you must connect all the necessary scripts to the page.
Step 2. Add an editor container element
Now you need to decide where on the screen you need to put the editor. Add an HTML element that will be a container for the editor to the necessary place. You may want to create a modal dialog or a button that hides your current interface and shows this container on a full screen.
Depending on the technology you use to embed an editor, the HTML element you insert is either <div> (for the UI Framework) or <iframe> (for the IFrame API).
Step 3. Load editor to the container
Now, let's see how to load an editor inside the element we have just prepared.
Step 4. Load a design from Asset Storage
The purpose of the product definition parameter is to specify a design you want to use as a template. You can just specify an ID of a design or its full path in the Asset Storage as a string.
In this example, we will just hardcode the design ID. It is supposed that you have already imported an InDesign or Photoshop file or created a design from scratch in a built-in Template Editor. To get an ID of a design, just right-click the design thumbnail and choose the Properties command: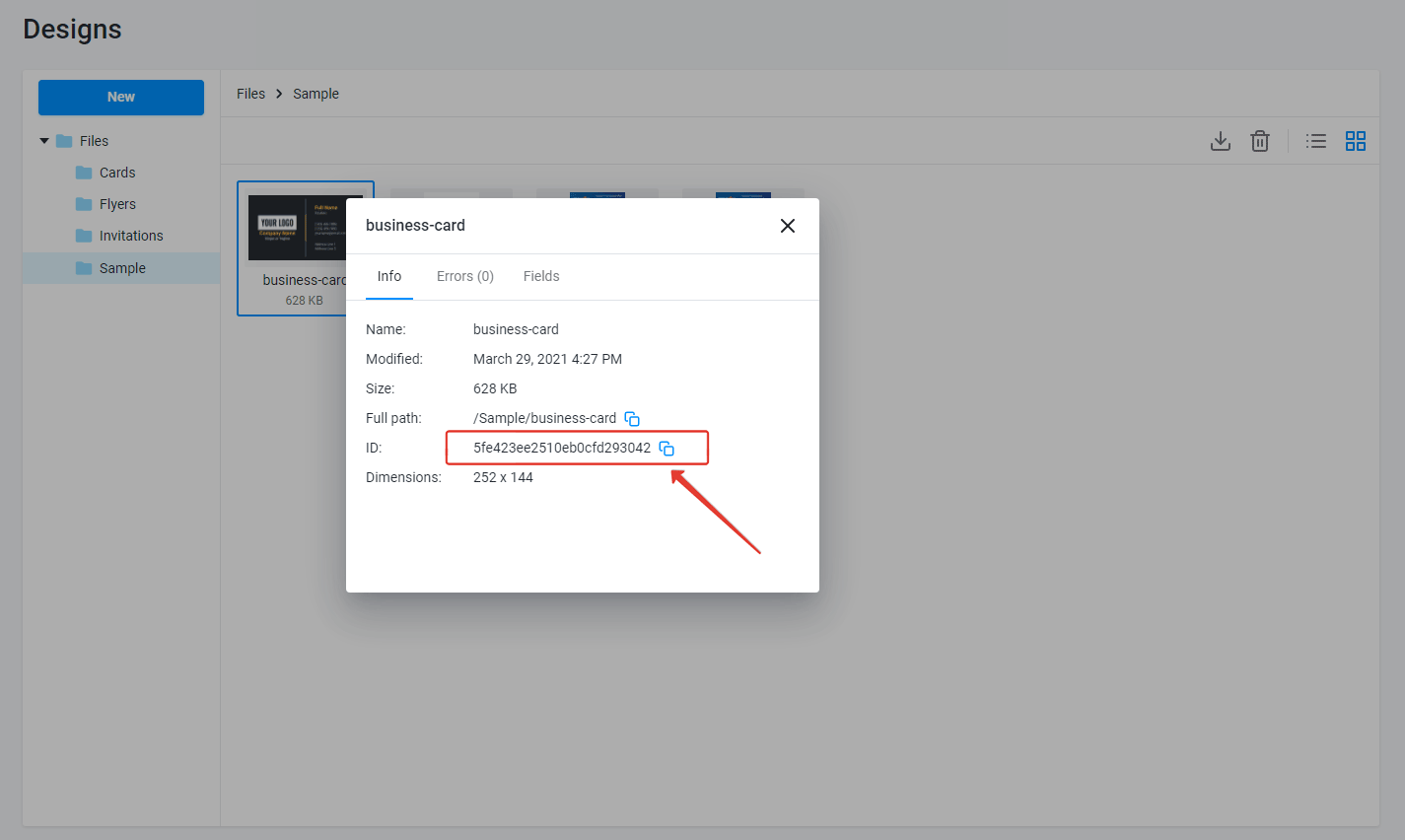 Use the Copy button to copy it to the clipboard and paste it to the code above.
Step 5. Save the personalized design
Just opening a design is not enough. You also want to save the result and have Customer's Canvas to generate a print and/or proof file.
A user's work is saved in Customer's Canvas as a private design. They are pretty similar to the regular designs we were using as a part of the product definition, but they have an important difference - they belong to a specific user. So we need to set a user ID so that the editor understands who we are saving it for.
In this example, we just hardcode it. In a real application, you will pass the ID here from your system or something like a session identifier for the guest user.
Now, we are ready to save private designs.
In this example, we output links to preview images and print files when processing the result of rendering a private design.
Configuring the editor
Loading Fonts
Now that we know how to work with the designs, let's learn about fonts. Let's see how you can set up a list of fonts available for a user.
By default, the Design Editor will show all fonts it finds in Asset Storage, but you quite often don't want to show such a large list to a user. Instead, you may want to handpick several fonts that work best with the design the user edits.
You need is to set a list of the PostScript names of the necessary fonts to the fontList parameter of a config. You can see the Postscript name of a font in a similar way to how you did for the design ID - by right-clicking the font in the Assets browser and selecting the Properties command: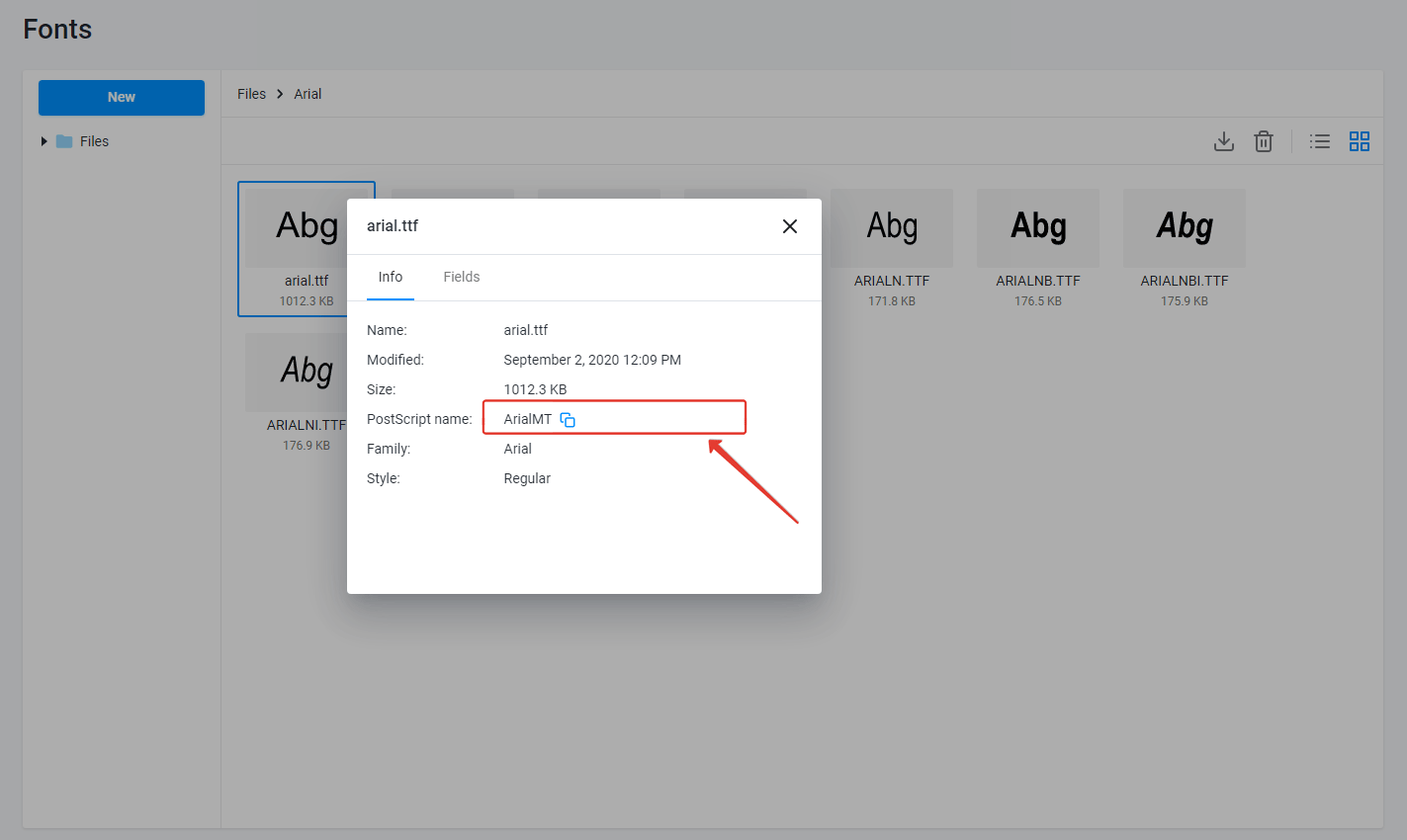 Just insert them as an array of PostScript names:
In practice, you may want to keep a list of fonts with each template, like the design ID. Consider providing your content manager an interface to select a font list. You may use Fonts to retrieve available fonts.
Organizing Image Gallery
You may also want to provide your users with some standard clipart, branding materials (e.g. logos), and photos. The Asset Manager article in the Design Editor documentation explains all possible options of how you can use it to organize galleries, but for this example, let's just see how we can pick our images from Asset Storage.
Imagine that you are building an editor for real estate agents and you want to provide them with the logos of the brokerage they work with. You will organize images in the Assets section into folders. There will be a Logos folder and subfolders for each of your brokerages, like this: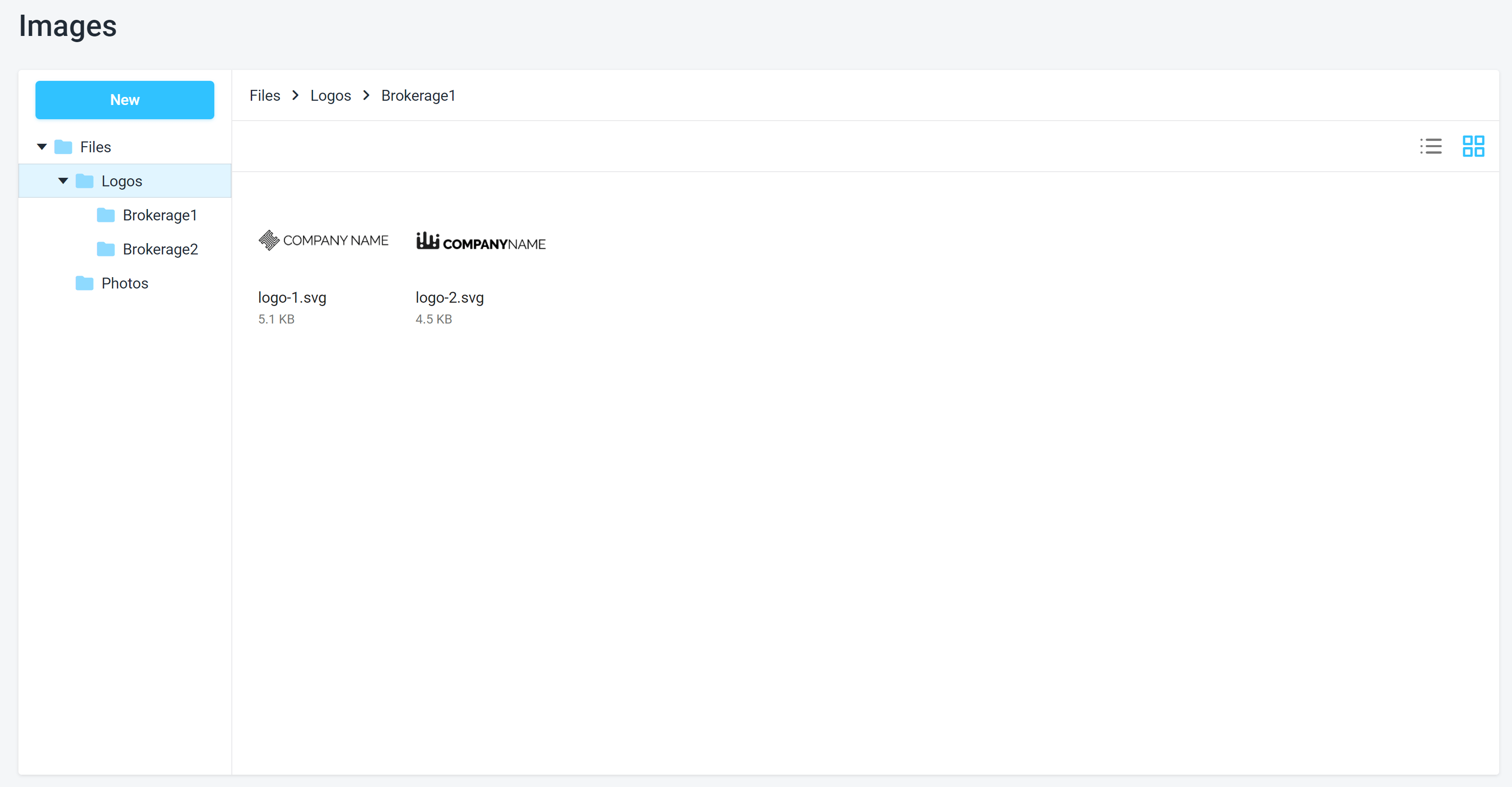 Let's set up the editor to show an Add Logo button, which would allow users to choose a logo from the /Logos/Brokerage1 subfolder. To do this, you need to set up several sections in the config:
Initialize the image source. You need to use the PublicSource and specify the path to the folder.

Note

If you want to specify a root folder, use the / character or an empty string.

Configure the gallery (Asset Manager) widget - add a tab connected to the source you have just described and set up a few options.

Configure a toolbox button, which would show the Asset Manager and add an image to the editor.
Re-opening previously saved private designs
As you may notice, when you save the result, you get an object with a stateId field that holds the design ID of a new design. You can just pass it as a product definition and it will reopen the user's design (provided that it is accompanied with a proper user ID), as in the example below.
By default, when you save the result, the Design Editor will create a new copy of a private design on each call. You may not always want to have all copies of all private design versions. To overwrite the previous design on each save, you need to assign an output stateId to the ID of an existing design.