Double-sided Promo/Gift Item Editor
Double-sided Promo/Gift Item Editor is a standard personalization workflow for two-side print products. In this topic, you will learn how to set up a product specification to personalize a business card with mockups.
For reference, you can download and use our ready-made design and mockup.
Attributes of this workflow can be divided into the following categories:
Design file
Asset folders
Editor mode
Output file settings
Let's look at these attributes.
Selecting a workflow
First, create a product specification. Go to the Product specifications section in your BackOffice panel and click Create new.
In Basic settings, type in the name and click the Personalization workflow. When the Select workflow window opens, you can see standard and custom workflows available in your BackOffice tenant. Click Double-sided Promo/Gift Item Editor and then click Select.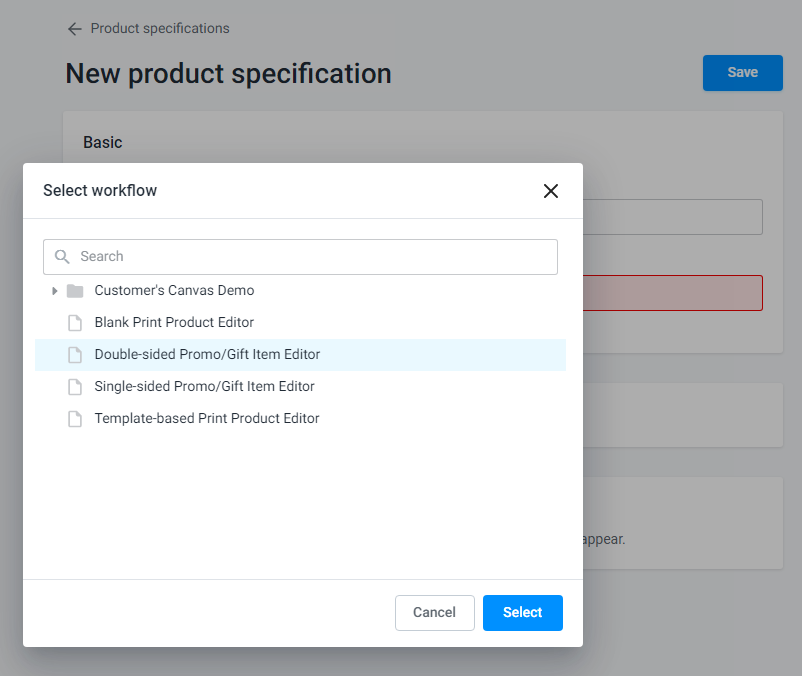 Once a workflow is selected, you will see the required attributes. You can follow the prompts to fill in the attributes.

Design file
The first attribute is the product design. You must click the Design field and select a design from your assets (Design section). Usually, this attribute is mandatory.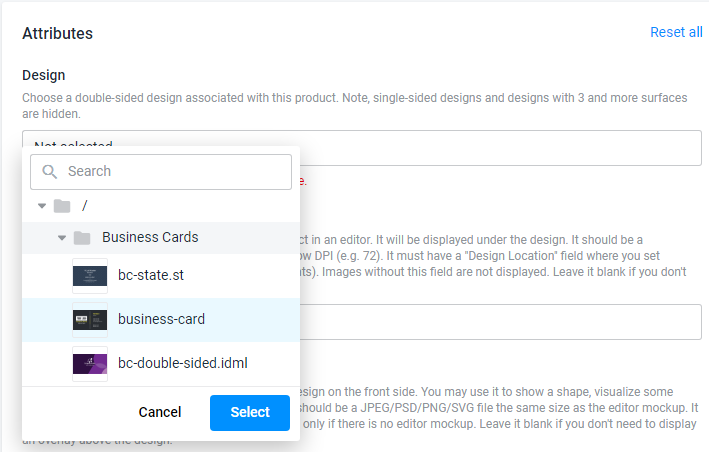 In this tree, only two-page designs will be displayed. Single-page designs and designs with three and more pages will be hidden.
Note
If you don't have any designs yet, you need to create one or import one from InDesign/Photoshop, as discussed in the Designs section of the Help Center.
Mockup files
This workflow allows you to visualize such products as flyers, invitations, or business cards using mockups. Unlike the Single-sided Promo/Gift Item Editor, for this workflow, you can set a separate mockup for each page in this workflow.
You already learned about managing mockups in BackOffice in the Mockups article. Now let's learn how to use those mockups in product specifications.
Editor mockups
You can add a background image to the editor to illustrate the product. Click the Editor mockup - front side field and select an image.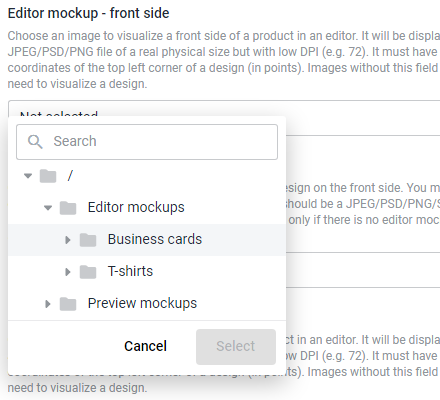 Editor mockups are usually JPEG, PSD, or PNG files of the real product size but with low DPI (e.g., 72).
Such mockups must have a Design Location field, where you define coordinates of the upper-left corner, in points, to put the design. Images without this field are not displayed for selection.
In the same way, you can click the Editor mockup - back side field and select a mockup for another page.
If you don't need to visualize the product, leave the field blank.
Overlay mockups
You can also add an image that will appear above the design in the editor. You may want to use it this way to display a "window" to cut the design or visualize some elements that are not printed. Overlay mockups contain transparent fragments, so these images must be in a format supporting transparency: PNG, PSD, or SVG.
To define a mockup for the first page, click Mockup overlay - front side and select an image. To define a mockup for the second page, click Mockup overlay - back side and select an image again.
Since overlay mockups must have the same size as editor mockups, you can only select an overlay from images of a similar size. If an image has the Design Location field, it will only appear if no editor mockups have been defined above.
In this tree, you can see already filtered assets that are suitable for overlay mockups.
If you don't need to visualize the product, leave the field blank.
Preview mockup
For the Double-sided Promo/Gift Item Editor workflow, you can select a Photoshop file that contains two smart objects. These smart objects will be used as containers for the personalization results. You must specify smart object names in the Design Layer and Back Design Layer fields, for example, Front and Back.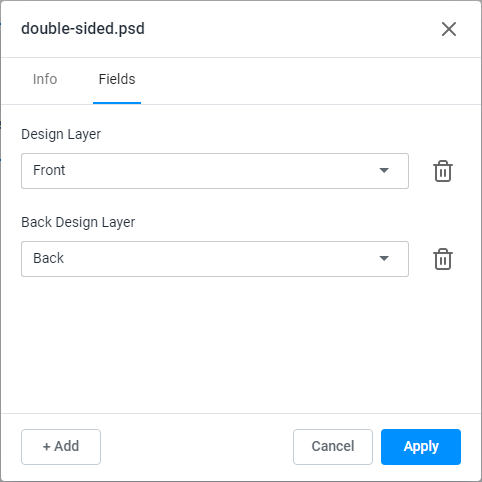 Assets without this field are not available for selection.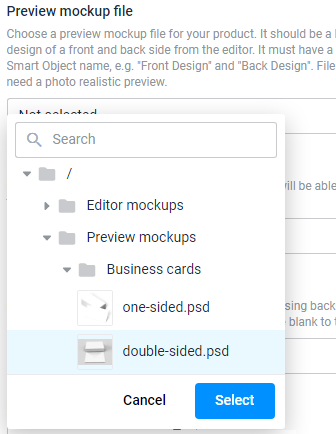 Asset folders
Your users must first upload their assets to the editor to add them to designs by default. You can also enable public galleries from which your users can add images. This workflow supports two galleries: the photos & clipart gallery and the gallery of backgrounds.
During the personalization, your customers will see the following buttons: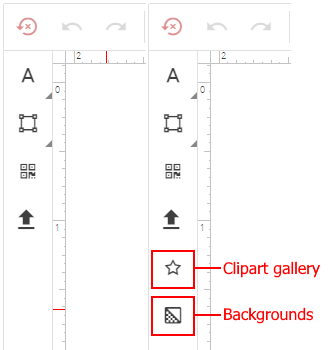 They can click one of them and choose clipart or a background like this: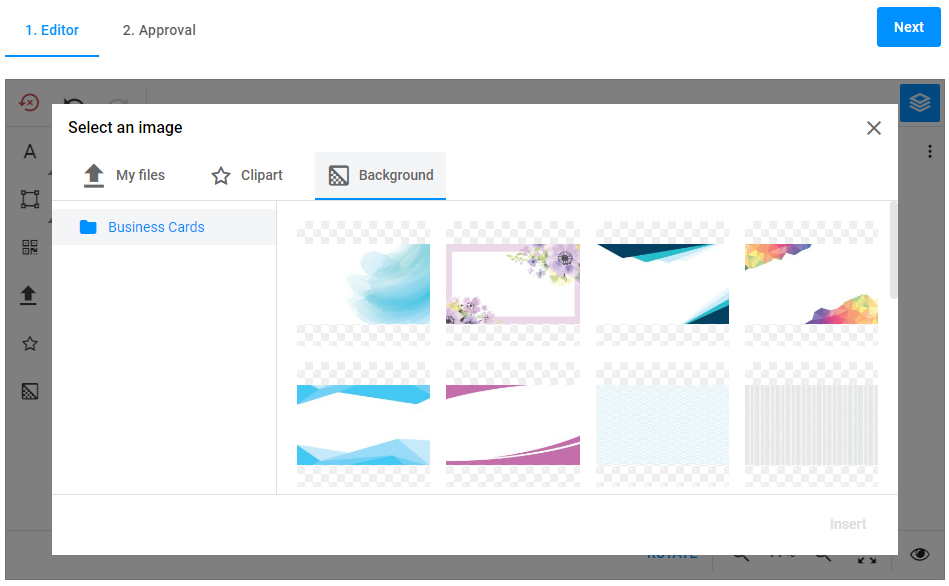 If you leave one or both of these fields blank, the appropriate buttons won't be displayed in the Design Editor, so the user won't be able to choose them.
Output file settings
Target resolution
You can specify the product resolution, in DPI, in the Output Print File Resolution box. The typical resolution for commercial printing is 300 dpi, but you may want to use smaller values for larger products to improve processing time.

Enable low-res preview
The Allow users to download low-res proof PDF file option specifies whether the Download proof PDF button should appear in the approval step. Clear it if you don't want to allow the user to download a proof PDF.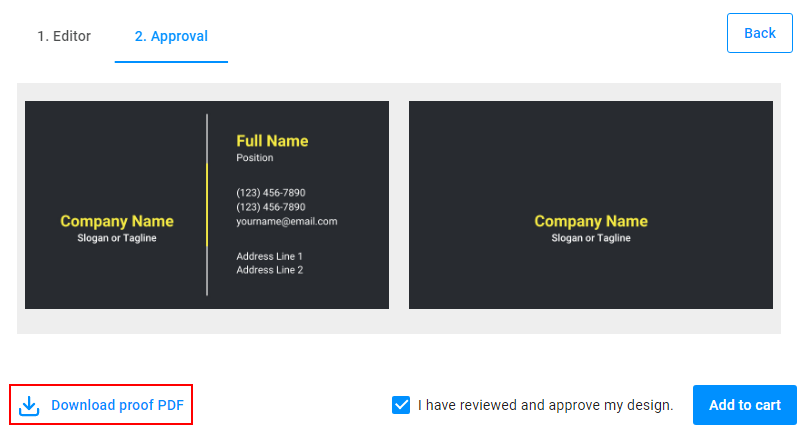 Editor mode
You may choose whether you want users to completely modify the design or only provide the content for the text fields and image placeholders. If you want them to use this simplified editing mode, clear the Allow users changing a layout checkbox. To give them complete freedom, leave it checked.

Watermarks
This workflow allows you to display watermarks on preview images. Select the checkbox Add watermark to proof images to display them in both the approval step and the downloaded PDF files.
---
Customer's Canvas allows you not only to personalize print products but also to implement a preflight check. In the following topic, you will learn how to configure the PDF Upload with Preflight workflow.