This feature is available only upon request. To enable it in your account, contact our support team.
Product Information Management
The Product Information Management Module allows you to create a product with predefined options such as a size, a paper stock, a fold, orientation, shapes, etc. Based on these options and their values, Customer's Canvas generates product variants.
When you're creating products through Product Specification, you can provide a design for a single product in your e-commerce system. For example, if you need to create a horizontal-oriented card, you must specify a design with horizontal orientation. During the personalization, your customer can't change this product orientation. To enable vertical orientation, create a new vertically oriented design and another product. As a result, two products with the same design but different orientation will appear in your store.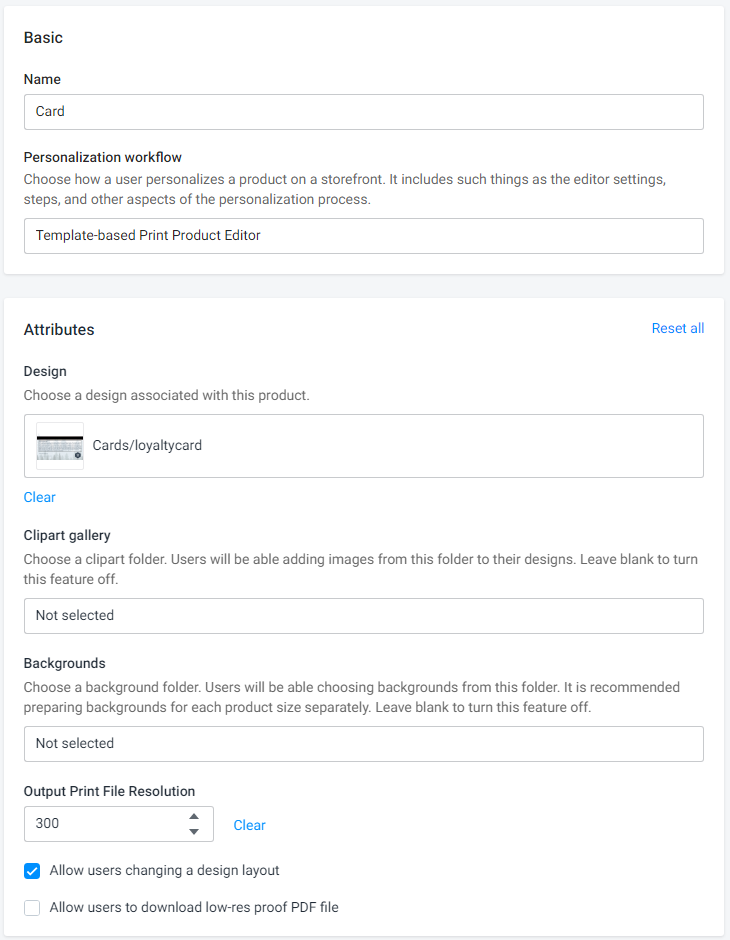 The Product Information Management module supports adding multiple options and their values for every product. It gives a full notion of a product model to the Customer's Canvas W2P system, which allows for implementing complex business logic, including an ordering workflow and pricing policy. In this approach, a product is a combination of product variants. For example, you can create a product Business card, and then create two options: Orientation with the Horizontal and Vertical values and Size with the 3.5 x 2 and 3 x 2 values. In Customer's Canvas, this product will represent a combination of the following product variants:
3.5 x 2 / Vertical

3.5 x 2 / Horizontal

3 x 2 / Vertical

3 x 2 / Horizontal
After the product model is established, you can fill it with assets like product designs and decide how you want to organize the product catalog. It can be a product confugurator, where customers can choose the product variant they want to order or you can create a separate e-commerce product for each variant, let's say Vertical Business card and Horizontal Business card.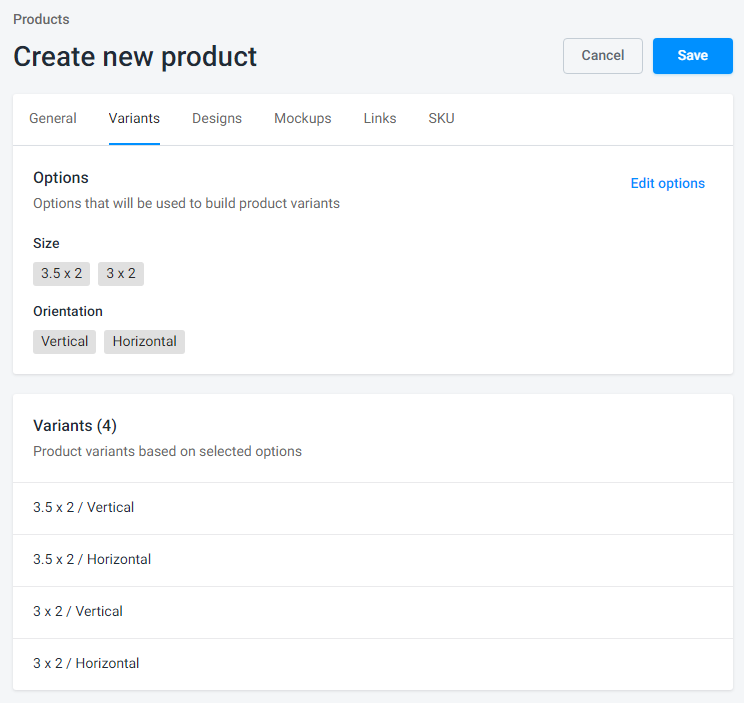 The main difference between the Product Information Management and the Product Specification is the opportunity to add many options to one product.
In the current implementation, the functionality is available on Shopify.
Let's learn how to create a product with many variants for personalizing.
In this chapter