Design personalization for real estate companies
Help your agents spend more time creating relationships with clients and less time designing brochures.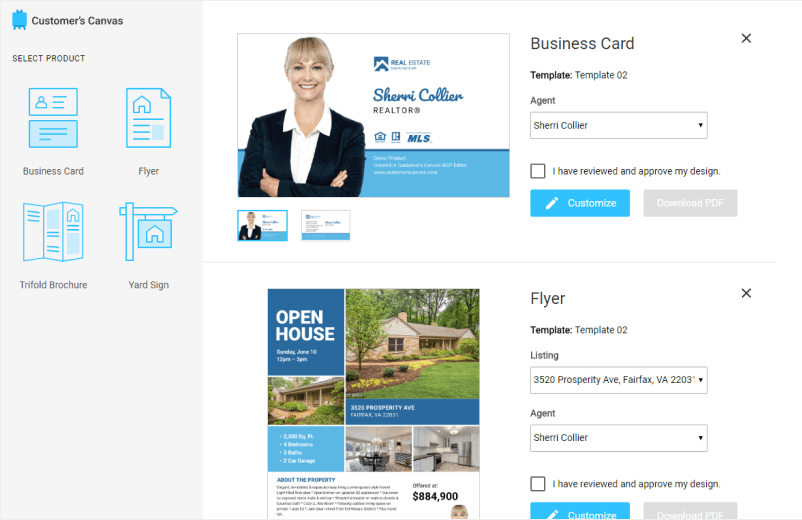 Professional level of design with minimum effort
A good real estate agent is not always a good designer. Provide your representatives with professionally-designed templates that only require them to insert property info and photos.
Stand out from your competitors
High-quality marketing materials suggest a high level of professionalism to potential home buyers. Customer's Canvas allows your company to maintain a high standard of marketing with less time and effort.
Professional designs with minimum effort
Create brochures from your database
Along with the design process, creating promotional materials requires inserting different information for each property. Variable data printing technology allows your agents to obtain information directly from your database. Addresses, number of rooms, and other descriptions are loaded automatically.
Connect photos of your listings to your marketing materials
The Customer's Canvas online editor works seamlessly with any digital asset management system. It gives your agents access to all the images and graphics they need.
Keep your branding consistent
It is critical that all of your company's branding elements look good across all of your different agents' advertising materials. You can rest assured that all marketing materials created by your agents in Customer's Canvas will adhere to your strict branding guidelines.
Create any type of marketing material
Using our online editor, you can create all the materials your company requires, including CMA market analysis, business cards, brochures, sales sheets, flyers, and yard signs.
Painless integration
Thanks to its modular architecture, Customer's Canvas is designed for easy integration into any process automation system that your company may already be using.
Boost your real estate business with web-to-print
Try free online demo and reach out to our representatives to discuss how our web-to-print solutions can be used to increase the efficiency of your real estate business!