Online business card editors are an essential part of any web-to-print website. If you are expecting to receive business card print orders, Customer's Canvas is the right solution.
Use Photoshop to create business card templates
When people order business cards either online or in a brick-and-mortar store, they typically don't just purchase a piece of paper with their contact details printed on it. They pay for the good impression they will create when they give a sharply presented business card to their counterpart or client. That's why your designers are your main salespersons: the better and more professional the design is, the more business card orders you will receive.
With Customer's Canvas you can create templates within the same editor or import Photoshop (PSD) files. Each element of a business card template is located on a separate layer, so you have full control over what the user can do with it - edit, change font, move, resize or more.
You can add such elements as single or multiline text blocks as well as images (fixed or placeholders).
Business card online designer
When the user chooses a template and clicks, say, a thumbnail or an Edit button next to that thumbnail, the Customer's Canvas comes into play and the editor is opened.
The business card editor allows a user to personalize a business card template in the WYSIWYG mode:
Edit full name, company name, title and other fields
Modify the layout by moving business card elements across its surface
Personalize text settings - font, color, etc.
Add a logo or another text string (e.g. company motto)
Insert the clipart from a gallery, if you have any
Switch between the front and back sides (if you have two-sided business card)
Set an image as a background or choose a solid color
Using an API, you can auto-fill fields with sample data or grab it from a database.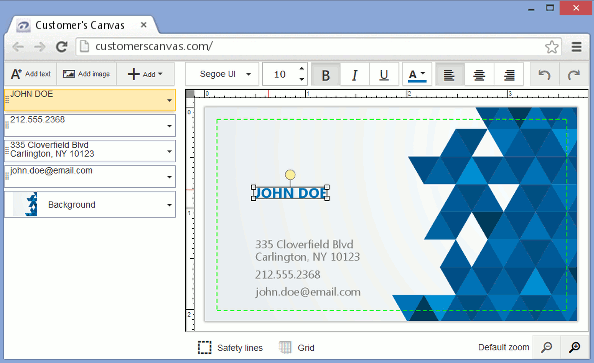 Get print-ready result file
When the user is all set and ready to place an order, Customer's Canvas automatically generates a result file. Depending on the configuration, it may be JPEG (raster) or PDF (vector), RGB or CMYK. You can specify ICC profiles for color management and output resolution.
PDF
Vector output, PDF/X-4 supported
TIFF
Hi-res raster data, both RGB and CMYK
JPEG
Proof images compatible with all browsers
Learn more