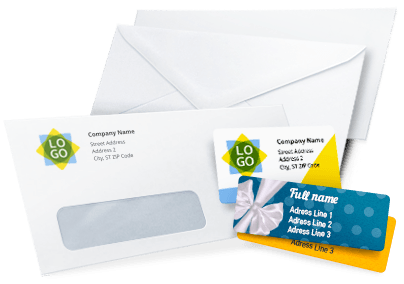 Customer's Canvas is a right product personalization tool if you are printing stationery, such as letterheads, return address labels or envelopes.
Create templates
Customer's Canvas has all tools for your designers to prepare templates for envelopes, letterheads or other stationery:
Insert backgrounds, images and texts
Add placeholders for a logo or a return address
Define non-printable areas, such as a window in an envelope
Single text strings or multiline text areas
Various fonts and paragraph settings
Create several pages or sides
Designers may use Customer's Canvas editor in an Advanced Mode to create templates or import them from multilayer Photoshop (PSD files).
Learn more
Stationery editor
When a user modifies a pre-designed template, the editor user interface should not look like professional desktop publishing software. All it should give is an ability to specify the user's data and show a preview image.
Customer's Canvas follows this idea. In the default Simple mode, the user just does the following:
Upload a logo
Types in return address, company name and other data
Switches between several backgrounds pre-defined by your designers
Add multiple pages if applicable for a product
If necessary, you can give the user an ability to switch to an Advanced Mode and allow modifying the design. The designer may define what particular elements are editable.
Using Customer's Canvas API you can pre-populate the user's data, manage a gallery of cliparts or configure the editor's other capabilities.
Learn more
Get print-ready result file
When your customer finishes personalizing a stationery template, Customer's Canvas automatically creates a result file. Depending on the configuration, it may be JPEG (raster) or PDF (vector), RGB or CMYK. You can specify ICC profiles for color management and output resolution.
Learn more
PDF
Vector output, PDF/X-4 supported
TIFF
Hi-res raster data, both RGB and CMYK
JPEG
Proof images compatible with all browsers