First impressions tend to stick with us for a long time. That's why a good ID card design is important for any serious event coordinator. These ID badges will be the first visual representation of the event that a visitor will see, and they'll be wearing it until the event is over. Considering that a busy person may attend a dozen events or conventions every year, it's essential for you to provide them with a well-designed badge without any mistakes. The Customer's Canvas online editor is the perfect tool for designing ID badges and filling them in with attendee data. Rid your customers of the pain of creating ID cards manually and help them avoid mistakes while filling them in.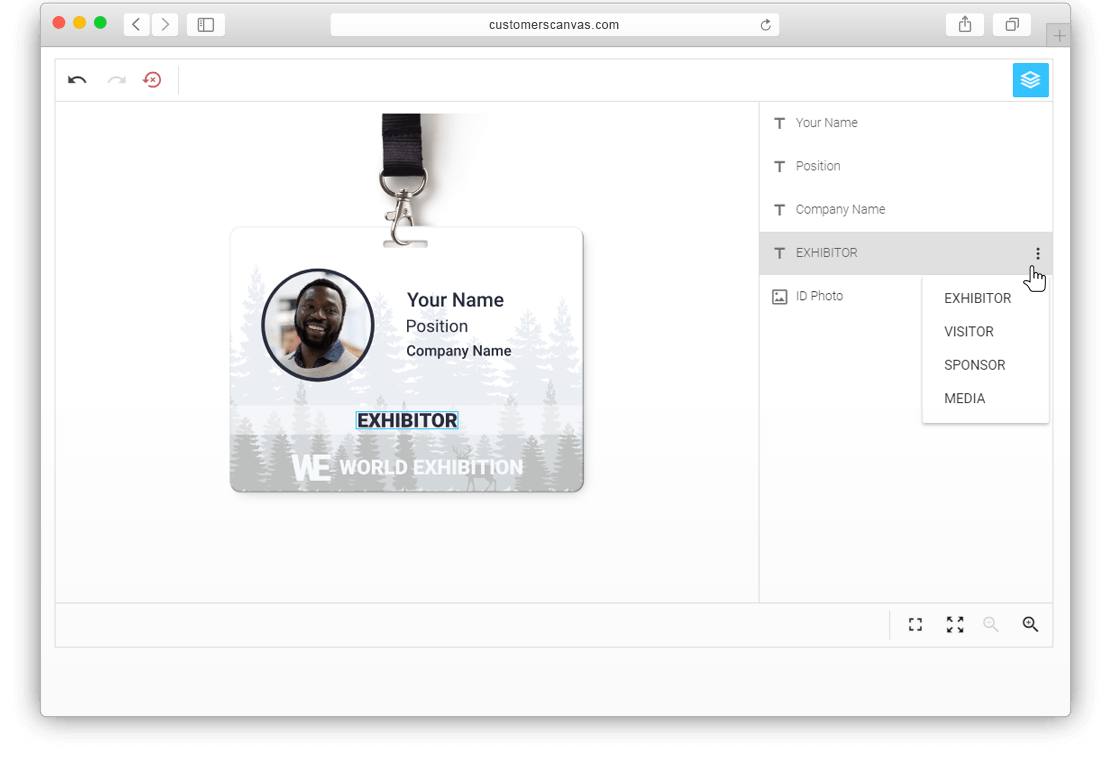 Lock text layers and placeholders
Select the visitor type from predefined choices
Upload images from a selected library
Resize text to fit text zones
This demo allows you to fill in a predesigned template with visitor data. You can lock your template to prevent changes to design elements while enabling your customer to enter the visitor name and information. Create an online gallery with visitor photos or upload them from other sources. Select the visitor's type (guest, employee, etc.) from predefined options.
Prevent users from changing the design, lock text layers and placeholders
Use predefined choices to select between different visitor's categories.
Add visitor's photos from image library
Keep the text inside text zones no matter how big it is
View Demo
QR code generator
Edit both sides
Upload your own logo
Realistic mockups
In this demo, you can choose to personalize an ID card from a template or create the design from scratch. Add an automatically generated QR code to simplify the registration process or to include additional information about the visitor on the card. If you want, you can give your customers full control over the badge's design options. They can add and move images or logos, change the background image, or select a different lanyard color.
Generate QR codes with various information
Personalize both front and back sides
Upload your own logos and artwork or use the image library
Additional mockups to see a real-life image of the product
View Demo
Add variable text fields
Create a design from scratch or using predesigned templates
Add data manually or import it from your computer
Generate print-ready files by importing data into your template
Creating printing materials for large events like conferences or trade shows is a big undertaking. It's often necessary to print thousands of personalized badges, among other event materials. With Customer's Canvas, you can design a badge from scratch or upload an InDesign or Photoshop template. You can add variable data fields to the design, which allow you to import and automatically insert data like attendee names, then generate print-ready files for each badge.
Use predesigned templates, or create a unique design with your event's logo
Add variable text fields to your design
Download a data template and fill it with your attendants list
Generate print-ready files of any quantity
View Demo