Looking for a photobook solution...
If you ever tried to find a solution which would enable your customers to order photobooks on your website, you know that it is not as simple as it sounds. Googling photobook designers, you find a bunch of providers offering web-to-print solutions but you surprisingly notice that almost all of them come with the provider's infrastructure – e-commerce system, CMS, marketing module, etc.
But what if you already have your own web-to-print solution and don't want to move to something else as you already spent time, resources, and money to develop your own system? Searching further you finally realize that there are only a few providers in the market offering standalone web-to-print designers able to process photobooks and they cost quite high price.
Why is it so difficult?
There is a reason for that. Support for multipage products in web-to-print sets specific limitations on web-to-print editors. For example, books usually contain complex formatted text, including text wrapped around images, which has to be supported by the editor. One more aspect of multipage products is the speed. Since books can contain tens, hundreds, and thousands of pages the editor's back end has to be optimized to process such amount of graphics. Books sizes can be up to hundreds of megabytes or even a gigabyte, so it requires special techniques to work with such volumes of data.
Technically the front end designer is tip of the iceberg working with small simplified copy of multipage products. Whereas the back end is doing most heavy work behind the scenes – optimizing graphics for displaying in the browser, creating proof images for every page, and rendering heavy hi-res PDF files. The back end – this is why that kind of solutions have high price tag.
Photobooks with Customer's Canvas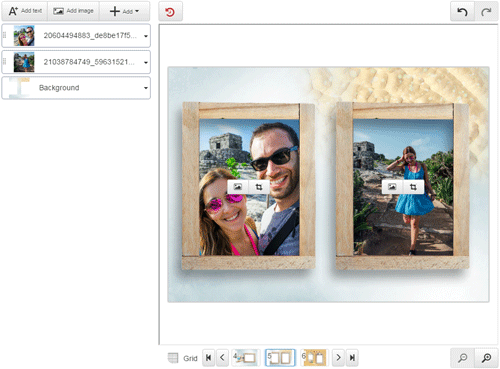 Fortunately, new Customer's Canvas 2.1.1 affords support for multipage products and photobooks out of the box at a modest price. All you need to do is to set up a template for each page of your product and configure them in the web-to-print designer. The solution is optimized for high speed and low memory footprint, so it can easily process a hundred of concurrent users even on a medium-size virtual instance or server.
If you are interested to know more about Customer's Canvas and photobooks, feel free to play with the demo, read the topic dwelling on technical aspects of the feature, or just contact us with your questions.