Personalizing packaging designs is not an easy task if you're not a professional designer. First, it's difficult to visualize how the final design will appear just by looking at the flat template. Second, the editing process can be complex, especially in terms of the layout. When the box is finished, the print area will be folded, so some sides need to be turned 90 degrees or upside-down during the design process. These complications cause problems when moving the design and ordering processes online.
This post covers a few thoughts on how such interfaces can be arranged to make the ordering process easier for customers. The following four approaches gradually shift from freehand editing to a more restrictive interface. Each approach works well for different audiences, from professional marketing teams to a small mom-and-pop food delivery business.
Freehand editing
This workflow all but mimics the same functions you might see in desktop software. Customers create their design elements from scratch. A high-quality outcome is achievable with this workflow, but it might require more time and a higher skill level from the customer. On the other hand, it allows the customer to have full control over design customization.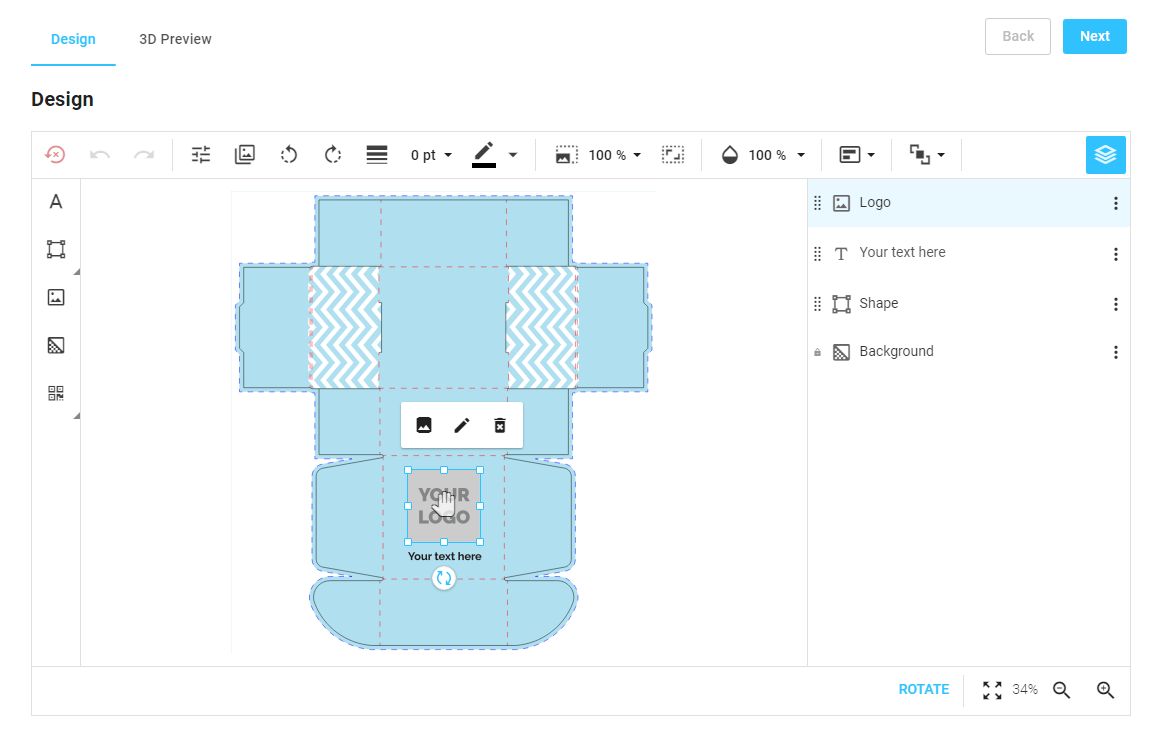 Online demo of a freehand editing
Target audience for this workflow: large enterprises with professional designers that can explore all the benefits of limitless personalization.
Limiting control during personalization
Customers lose some freedom when designing within this workflow. The positioning of the design elements is locked and the only options available to the customer are uploading a company logo to a pre-set placeholder and personalizing the text areas. Implementing this type of workflow makes it easier to achieve a good result. Even though you are limiting the personalization capabilities for how elements are positioned, the user still has enough tools to create eye-catching packaging.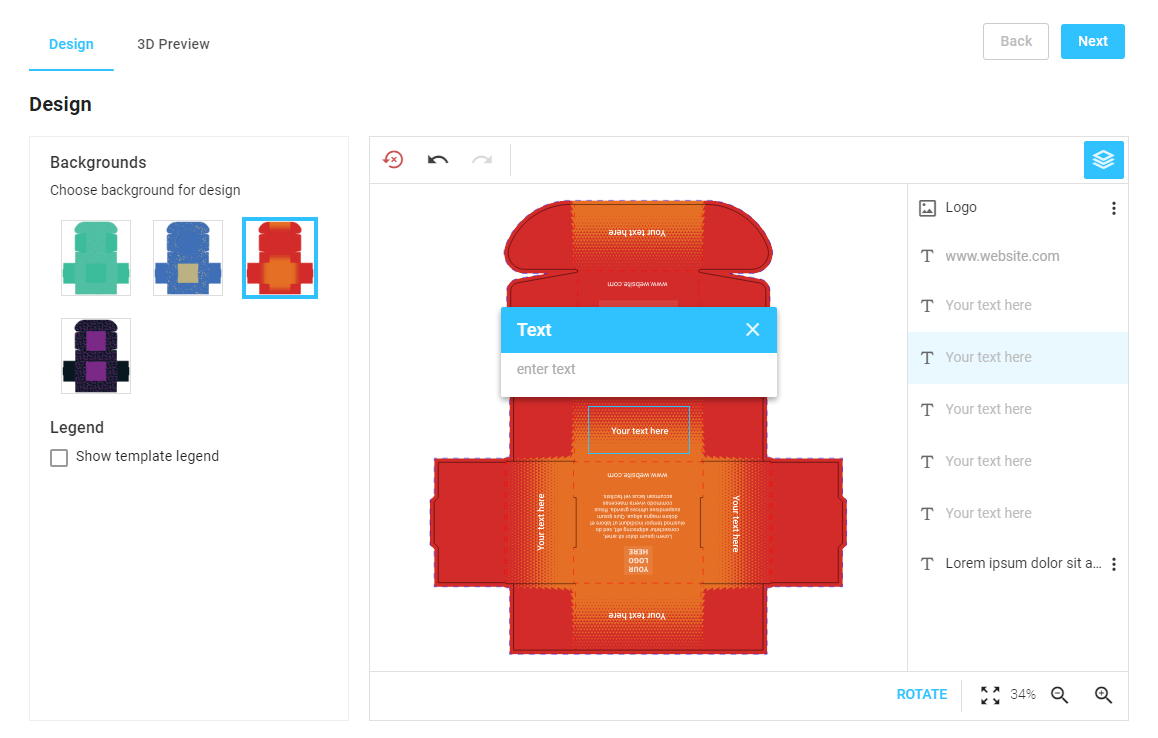 Online demo of a content-based editor for packaging products
Target audience for this workflow: companies in the fast-food industry, craft goods markets, etc. They usually don't have a professional designer and are fine with limited control over the customization process.
Predesigned layouts
This workflow allows customers to choose between a few predesigned templates and upload their own logos and text. Professionally made templates will have a more visually appealing outcome and won't require professional designers to get a decent-looking box. Another benefit to this workflow is that it helps manufacturers meet requirements for certain mandatory elements that must be printed on the packaging, such as nutrition facts, safety information, or certification marks. Printing companies can create a few layouts specific to certain industries.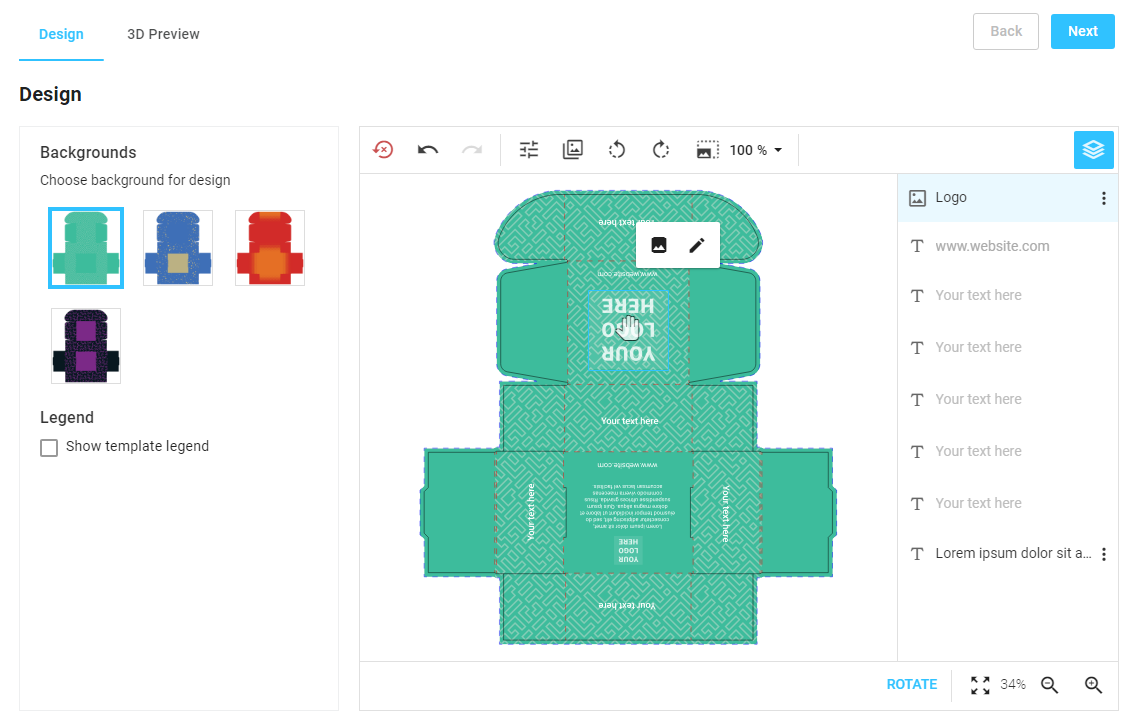 Online demo of a layout-based editor for packaging products
Target audience for this workflow: businesses that want professionally designed boxes and are comfortable with using third-party templates.
Restricted areas
In some cases, the only elements that customers need to personalize their box is a logo and some additional information, such as a slogan, website address, or phone number. They also want the process for creating the packaging to be as easy as possible. The best solution for these clients is a simple editor where they can upload their logo and insert the text. Then, they can choose the box sides where they want to place the design. This is a very simple and straightforward way to personalize packaging. This method can be used for printing on boxes that have already been folded.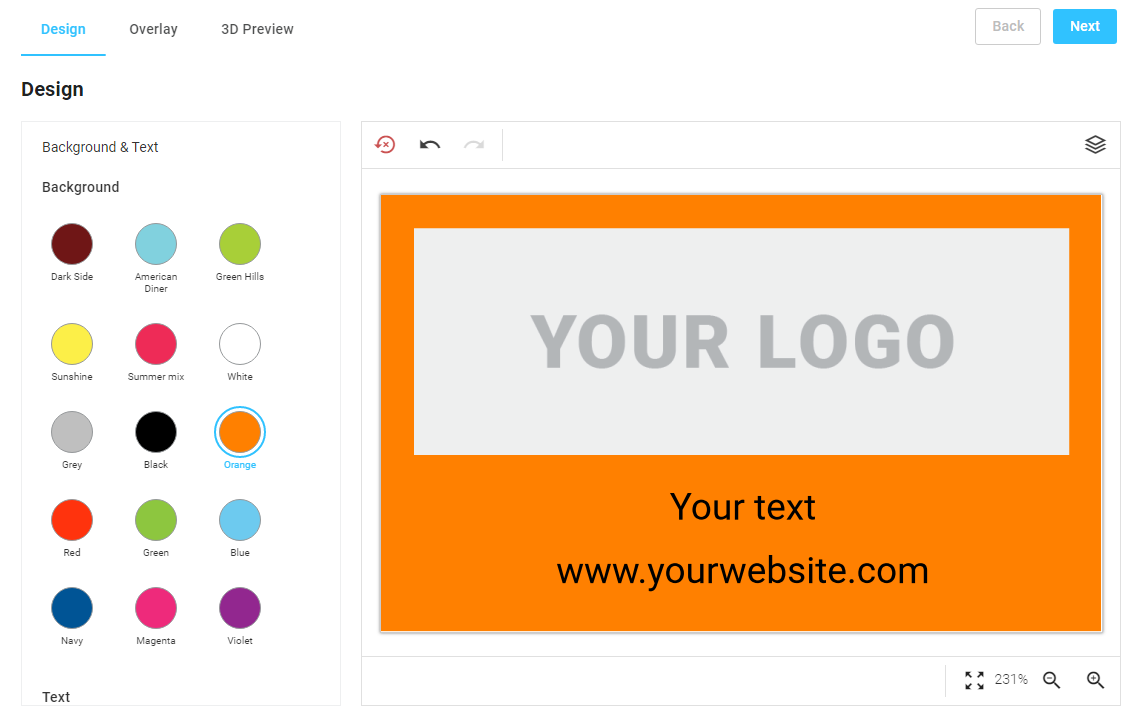 Online demo of a restricted areas editor
Target audience for this workflow: small businesses that want branded packaging on a budget.
Choose the right personalization interface for your web-to-print packaging project
It's vital to pick the right interface when planning a project like this. Otherwise, you might end up with a result that is technically perfect but costs a lot of effort to create, risks underperforming, or misses the ROI target because of the bulky interface. If you're considering adding online packaging personalization to your offering, our experienced engineers can help you set up the editor based on your target customers' needs.