Are you stuck with endless requests for marketing materials from your franchisees? Maybe your partner printed some promotional banners in an alarmingly neon shade of yellow, completely ignoring your blue and white corporate colors.
If you've experienced similar headaches, then you're already well aware of the challenges that can arise when you own a franchise business. You often have the task to create a strong brand while supplying your partners with consistent marketing materials. Inevitably, many obstacles pop up along the way.
Consider Harry. He runs a central marketing department at a company with branches all over the United States. It's his job to ensure that all branches get the marketing materials they need. There are two main challenges:
Provide all the necessary materials promptly
Make sure these materials comply with the brand's guidelines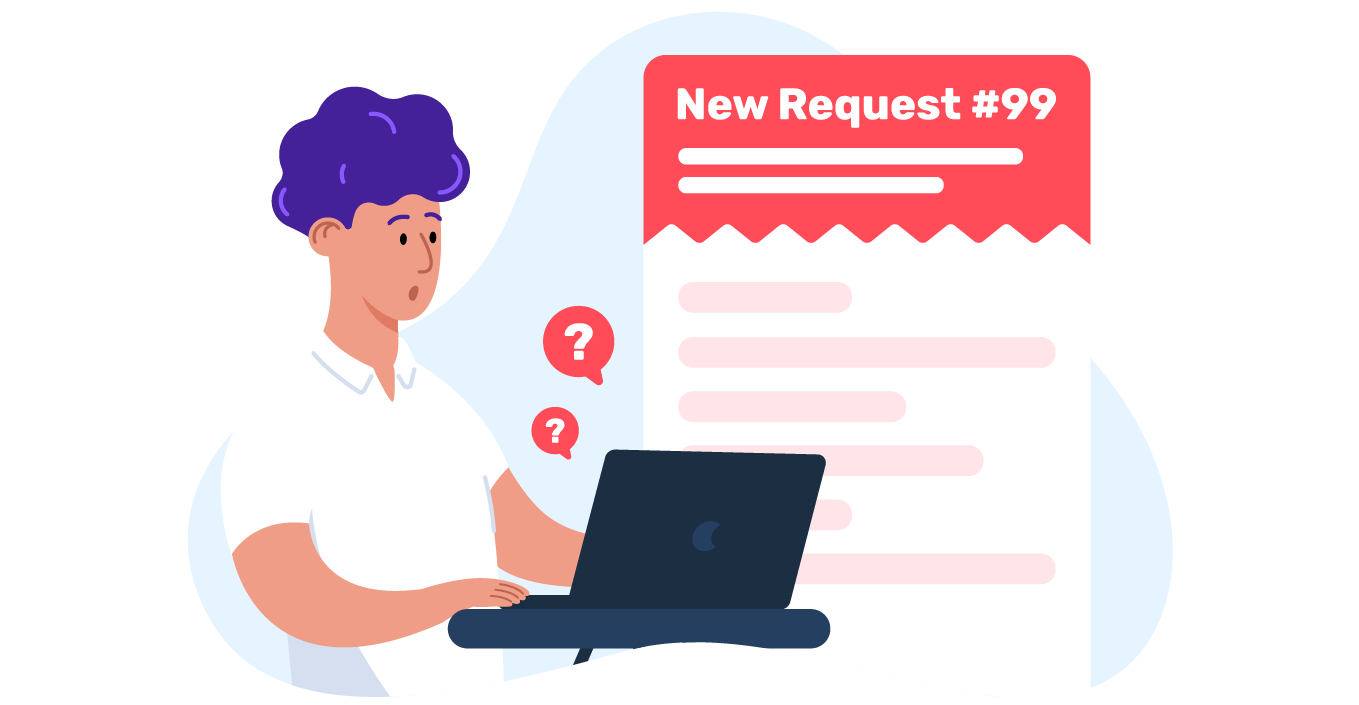 The company is expanding and new branches are opening all the time. Harry's team receives thousands of requests and a bunch of edits every day. This makes them nervous. The manual processes that worked fine when the company was small are now slowing them down.
Web-to-print could be the solution Harry's team needs. The right integration would allow branch managers to store and edit templates as well as locate and order the necessary materials for printing, all in self-service mode. This system would help them cope with the challenges described above and build an automated process.
Let's dive deeper...
Create and manage templates
Your partners will need booklets, brochures, banners, and other marketing materials to effectively run and promote your business locally. It's up to the company behind the wheel of the business to devote time and resources to bring these materials to life. In our case, this is Harry's responsibility.
It's possible to prepare highly professional yet localized templates and store them all in one place. By using these pre-designed templates, your partners don't need to waste time designing them from scratch and you can be sure they meet your quality standards.
Marketing materials aren't limited to printed products. You can also personalize online materials to post on Instagram or Facebook.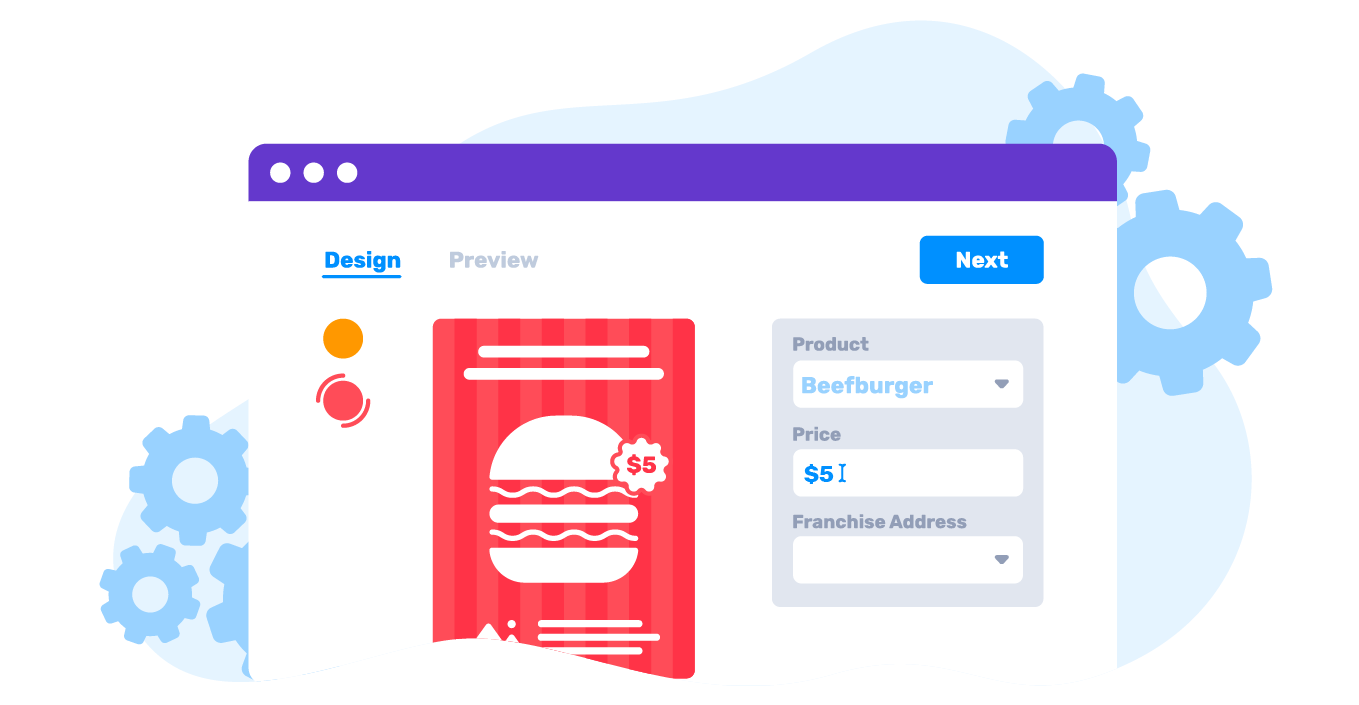 Franchisees can update templates with the information they need, such as their phone number, pricing, location, or email. This frees up your time since the franchisees can make all of these updates by themselves. Once the editing is finished, you can download PDF files and send them for fulfillment.
Your designers' efforts can be directed to creating new eye-catching materials instead of endlessly editing designs for your franchisees. In other words, web-to-print with an integrated online editor doesn't replace your design team. It increases the impact of their work.
Control your branding
If we Google the most famous franchise, the first answer that pops up – to the surprise of no one – is McDonald's. The position is well earned. This company is the premier example of the franchise business model.
What is the secret to its decades-long success? There are plenty of factors, but we would like to highlight one of them: brand consistency.
Whether you visit McDonald's in North America or China, you'll get the same customer experience wherever you are. The consistency of the company's brand extends not only to the restaurant service, but also to the marketing collateral, packaging, stickers, and other products that distinguish this chain from others.
Marketing collateral may vary locally because Chinese trends are different from American ones. At the end of the day, all of their materials are on-brand and professional.
You can protect your brand and keep it consistent by setting up template restrictions. Decide which elements can be changed in your uploaded templates to prevent your partners from making changes to design elements crucial to your company's branding.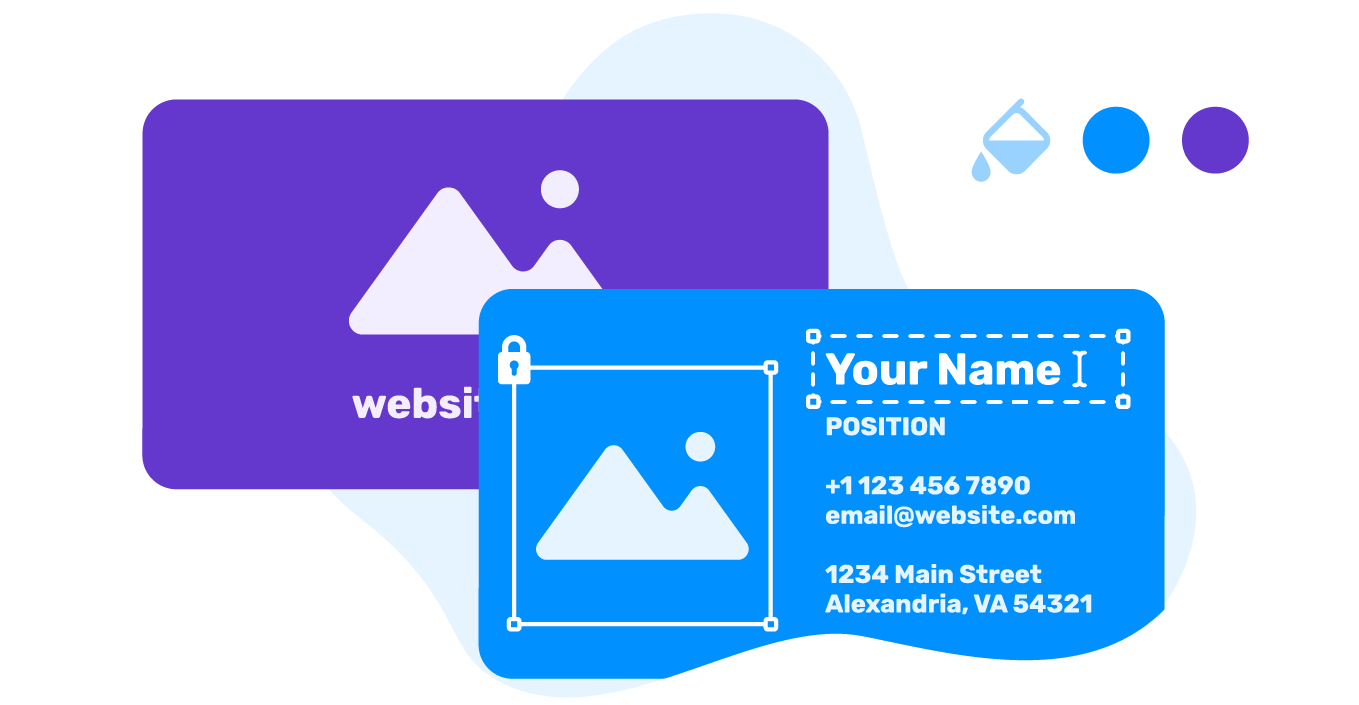 Here are some possible scenarios:
Lock design elements, giving your partners the opportunity to update only the text containing contact information.
Set up the text length to prevent franchisees from entering a long string of text.
Configure placeholders to facilitate the personalization process for your partners when they place images.
Set up an automatic map for marketing brochures with the locations of points of sale.
And many other...
Autofill templates with data
Let's recap: you've created pre-designed templates for your franchisees, and then set up the template behavior. The risks to your brand have decreased. The next task is to make templates smarter.
Remember Harry? He's struggling with new requests. Automatic pre-population is one of the best solutions for easing the burden of creating marketing materials. Your partners will most likely need to update pre-designed templates with specific data like addresses and phone numbers. This is a difficult task when hundreds or even thousands of such templates are involved.
Automatic pre-population of individual pieces of information like addresses, prices, and phone numbers makes it easier to create marketing materials. You can connect to any data source to autofill your templates. This saves time and lowers expenses for you and your partners.
Connect to your DAM system
Do you use a digital asset management system (DAM) to collaborate across your franchisees and provide them with secure access to brand guidelines and assets? If so, the good news is that a web-to-print solution can be integrated with your system. You can give your partners the ability to select the materials they need and personalize them for future printing.
For example, a franchisee is reaching the end of the year and finds an unsold collection of clothes. The company decides to run a new marketing campaign to entice more customers to buy these products. Without pre-designed and approved templates, they'll probably start creating their own materials for promotions, which may or may not adhere to your brand guidelines.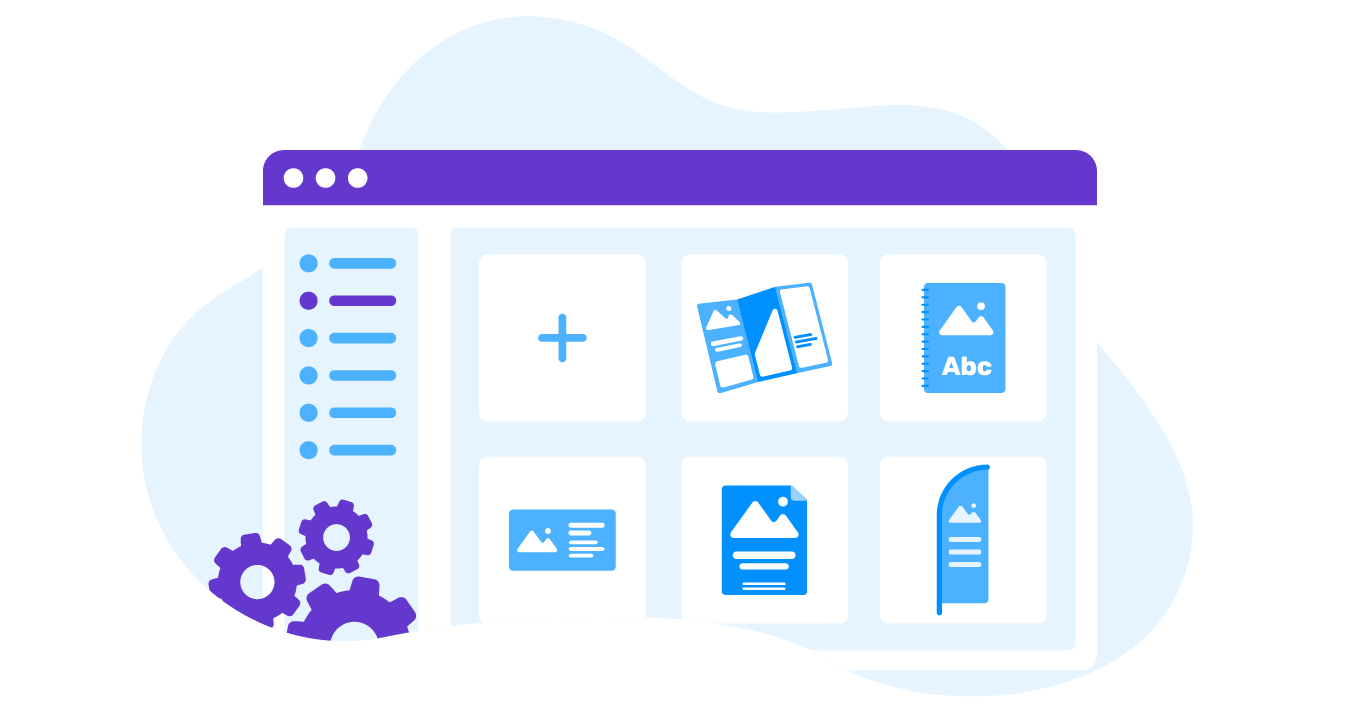 As we mentioned, your DAM system can be connected to web-to-print. This can give all your franchisees convenient access to marketing materials for further personalization.
Level up your franchise business with web-to-print
With a flexible web-to-print solution, you can streamline the process of generating and delivering marketing materials to your partners. This will reduce the risks to your brand, save time, and conserve human resources. Don't worry – the integration process with your storefront, e-commerce platform, or MIS system is smooth and will not damage your internal business processes.
So, if you are planning a web-to-print integration for your franchise business, we are always ready to aid in this endeavor! Let us know if you have any questions about your project.