In the competitive print marketplace, more companies than ever are offering digital storefront and online ordering capabilities to their customers. Consumer behavior has changed dramatically in recent times. Today, customers want to order and receive any type of product right here and right now. "Here" is an online storefront that fits in the palm of their hand. The COVID-19 outbreak has only accelerated this rapid rise in e-commerce as people continue to stay home amidst the pandemic.
Companies must focus on improving the efficiency of their business processes to stay afloat in our current reality. Implementing a web-to-print solution is one of the most effective strategies for companies to get online orders, increase revenue, and obtain the various benefits of workflow automation. We will use this blog post to highlight how web-to-print integration can affect many aspects of a printing company's operations and, ultimately, the level of success it can achieve.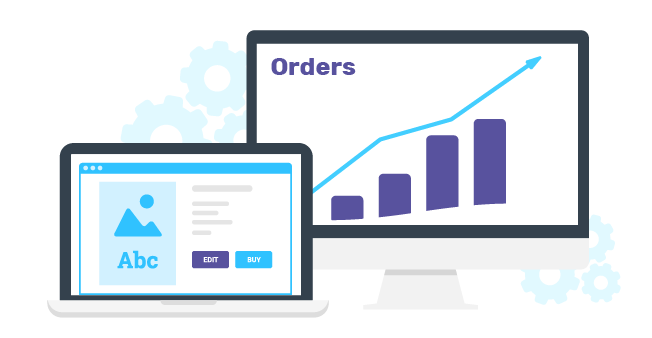 Any company must always adapt to a changing business environment to remain competitive and keep the bottom line growing. All opportunities for streamlining business efficiency should be explored. Such opportunities usually involve leveraging new technology and resources to either shorten the time spent processing an order or reducing the number of steps involved. A successful web-to-print integration is capable of increasing the efficiency of a company.
Ordering process
We all know the adage that "time is money". It's repeated so often because there is a lot of truth to it. As it relates to the printing industry, a web-to-print integration reduces the time you have to spend on some of the more important aspects of the printing process or working with larger clients and will lead to increased revenue.
If you work with B2B customers, then you probably know that companies don't always have the time to explain their requirements to printers. For example, a company wants to print a thousand business cards. In this case, you will need to meet and discuss all the conditions, which can take a lot of time and effort for both parties. What if they want to make changes and do it all over again?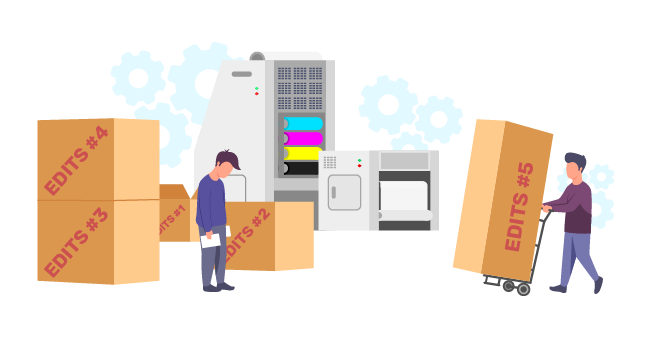 Automation is still the key to reducing time, human error, and minimizing downtime. When implementing a web-to-print solution, companies allow customers to order printed products in self-service mode. W2P enables customers to create, save their designs, and make edits at any time. There is no need for prolonged interaction with print service providers.
It's important to perform checks on a print-ready file to guarantee that the final product meets customer expectations. To verify that user designs are valid for printing as well as check the uploaded files for compliance with requirements like the color profile, safety zones, and adequate font representation, W2P allows you to configure preflight checks. This is a part of the prepress process that is essential for every print job. Preflighting prevents you from printing expensive mistakes due to incorrect data and increases the efficiency of your business in the process.
Competition 
It's hard enough to compete for customers with other companies in your area, but with a suitable and well-planed web-to-print solution for your business workflow, you can even the odds in your favor. Any opportunity to do something faster and better than your competitors gives you an edge. Increased efficiency leads to increased competitiveness.
A web-to-print solution will equip your business with an array of features that can set you apart from your competitors. For example, you can stand out by simplifying the editing process for your customers. A great way to do this is by giving them a better understanding of how their final product will appear with mockups or 3D preview add-ons. How you implement web-to-print depends on your business goals. In a case where you offer a large volume of personalized products like direct mail services, consider a W2P editor with VDP add-ons. This competitive edge gives you the upper hand and expands your client base.
Increasing sales
Modern e-commerce systems (such as Magento, Shopify, and other platforms) use upselling features that encourage customers to order more. For this reason, having a web-to-print system integrated into an e-commerce platform can make a significant impact on improved sales. Moreover, this feature increases the average order value.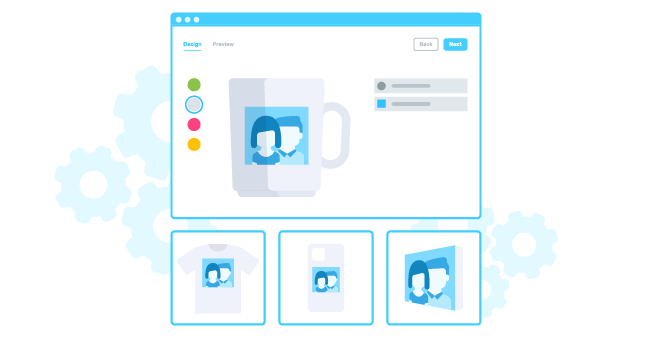 For example, once a user has uploaded their photos, the e-commerce system and web-to-print module work together to display different types of products personalized with those photos (e.g. photo books, t-shirts, and more). Seeing a preview of these products increases the likelihood that the customer orders an additional item on the website.
You can also offer your customers add-ons to the product they're purchasing directly from the checkout page, such as offering a pen to go with their notebook. Alternatively, you could offer to gift-wrap the product for an additional fee.
Marketing capabilities
Companies may gain entirely new and efficient marketing capabilities by utilizing a web-to-print solution. Many businesses today rely on digital marketing. When spending money on digital marketing campaigns, companies want to have a good idea of their return on investment. A website integrated with web-to-print is a great tool for understanding how well traffic is converting into sales. A web-to-print implementation opens up new ways to develop your business. You can pull extra revenue from personalized products, on-demand marketing, or gifts.
Despite the widespread development of digital marketing, direct mail as a marketing tool has become no less efficient than many have predicted. Direct mail gives customers a sense of reality in the form of a tangible representation of the company they are doing business with. Studies show that advertising messages found in mailboxes help establish a stronger relationship with consumers. Besides, when others use popular marketing channels, you can stand out from your competitors and increase your conversion rate by using direct mail. Web-to-print features allow companies to configure and personalize direct mail by using a variable data printing add-on.
Another thing to consider is that more products than ever are being shipped directly to customers' homes during the COVID-19 pandemic, so brands are getting limited use out of their marketing channels in brick-and-mortar stores. They are starting to view packaging as a marketing channel that can pick up some of this slack.
Product range
A web-to-print solution gives you an opportunity to expand your product range and add services to your company's portfolio. For example, if you are offering a new product category, web-to-print capabilities allow you to add a new product to your digital storefront and permit customers to personalize it. The benefit is that you don't need to spend extra resources on promoting the new product because your customers will see it in the product catalog.
Web-to-print technology allows companies and marketing teams to easily add or remove available products. Most changes to the digital storefront can be made quickly so that there is no conflict between the available products and orders.
Here are some key segments that are developing strongly due to W2P integration:
The gift market has significantly increased its revenues and profit margins by adding a personalization option for many types of products. Web-to-print can be leveraged in this sphere to help companies offer a broad range of personalized gifts, such as wall art, photo products, and so on. With a web-to-print implementation, customers can order gifts that make the packaging feel like part of the product. This increases the value proposition and can help boost your conversion rates.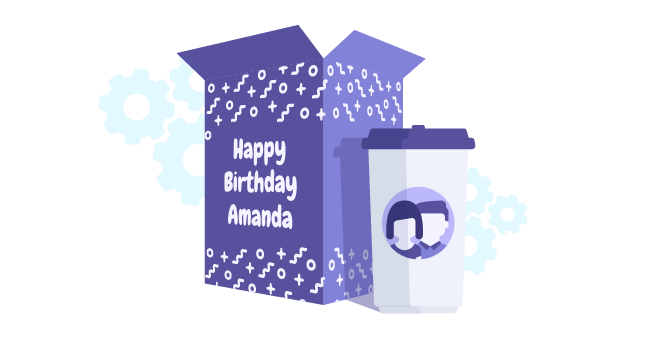 Web-to-print is also a useful tool for publishing production. It allows customers to personalize books, design a cover, and choose the binding. This setup creates an entirely new product and revenue stream for companies that specialize in these products.
W2P technology is a great fit for T-shirt personalization, which is one of the hottest current trends in product customization. Some companies use T-shirts as a marketing tool because they're an effective way to promote their brand. There is a lot of demand for T-shirt personalization, which can be met by the various methods of printing that W2P supports (e.g. screen printing or direct-to-garment).
As mentioned above, packaging is increasingly used as a marketing channel, creating new revenue streams for packaging providers. W2P can be used for various products that aren't limited to paper and board packaging, and can significantly increase the efficiency of creating personalized packaging. Importantly, high-quality web-to-print solutions support all of the required standards for the packaging sector.
Reduction of overall administrative and inventory costs
The central benefit of a web-to-print system is the ability to print on demand. This feature helps businesses bypass the time, investment, and risks associated with inventory management.
Web-to-print solutions allow end-users to upload their own products whenever they like. This gives you control over the design. You will be able to set up who can order, approve, or view their transactions at any time. Moreover, it reduces the turnaround time during the printing process.
Due to the reduction of prepress times, you will be able to maintain a smaller inventory. Web-to-print integration reduces overall administrative costs as you will eliminate several steps that usually go into the process behind a print order, such as direct communication with your customers, discussion of all the requirements, additional work with your designers, and so on.
Conclusion
We're finding ourselves in an uncertain and rapidly changing business environment. The printing industry's destiny is closely tied to the overall global economic situation. To remain successful, a business must always adapt to new conditions and be on the lookout for potential turbulence as well as opportunities. With the rapid rise of e-commerce, companies cannot afford to just stand on the sidelines. Growing competition and increasing customer requests for quick, personalized purchases are strong motivating factors for a company to increase its efficiency. Even if your company is running quite smoothly, it still has room to grow if you haven't yet added a W2P integration. Now more than ever, a W2P solution might become a lifeline for weathering some of our modern-day realities.