People ordering wedding invitations or place cards trust print companies with one of the most exciting events of their lives. Previously, placing orders for hundreds of invitations presented a massive challenge for both customers and sellers. Thanks to modern technologies like web-to-print, end-users can now create, customize, and purchase online in a matter of moments. They can follow the process to the end without any seller involvement. But to offer a high-quality product that surpasses the competition, print companies must carefully plan their web-to-print integration.
Design editor for custom invitations
Wedding invitations should make a strong first impression on your clients' guests. The invitation style should match the tone of the event itself and provide a preview of what guests can expect. These cards also provide essential information like the time and venue for the event.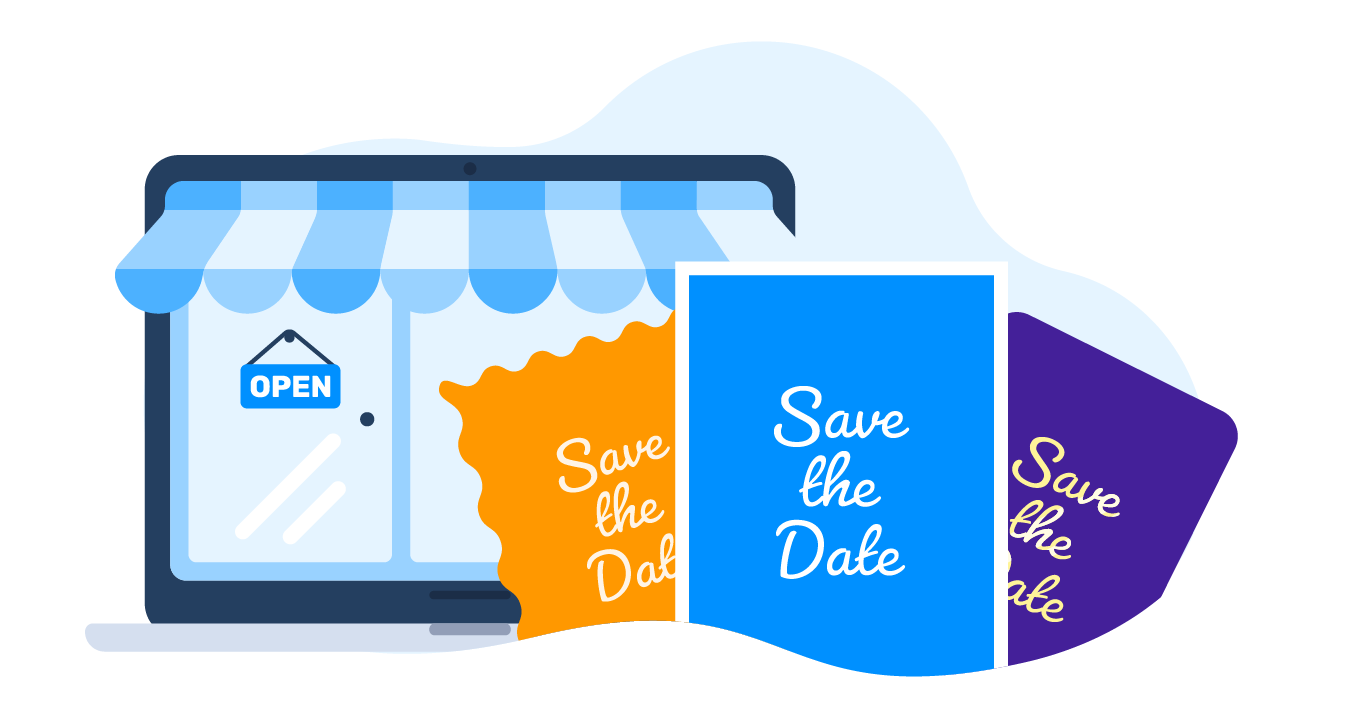 Analyze your client's needs
There's no denying it – weddings are stressful. Your customers have a lot of tasks to complete in a short amount of time. They probably don't have strong design skills but still want to have stylish, appealing invitations. Considering these factors, the personalization process should be as easy as possible, and the editor's interface needs to be very user-friendly.
Select a personalization workflow 
You can implement various personalization scenarios. Let's consider the most popular ones.
Freehand design editor. This type of editor gives the customers total freedom when creating the product. If your clients do not have much design experience, they could be frustrated by creating their invitations from scratch. The blank canvas might seem intimidating and confusing to them. Not to mention the mood of the couple preparing for their wedding could be spoiled if something goes wrong and the final design turns out less than perfect.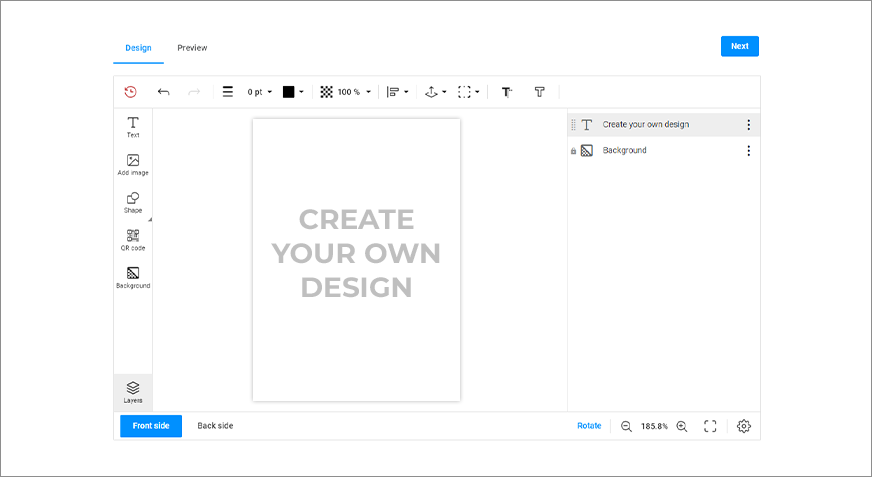 Form-based editor. If you want your customers to only insert information into a web form without changing the design interactively, you can use form-based editors. In this workflow, users may only edit text fields or upload images. You don't have to worry about clients with little design experience ruining the final design. In this case, you don't provide much freedom for creativity. However, every bride and groom usually want to make their wedding a unique experience, and custom invitations are one way to achieve that.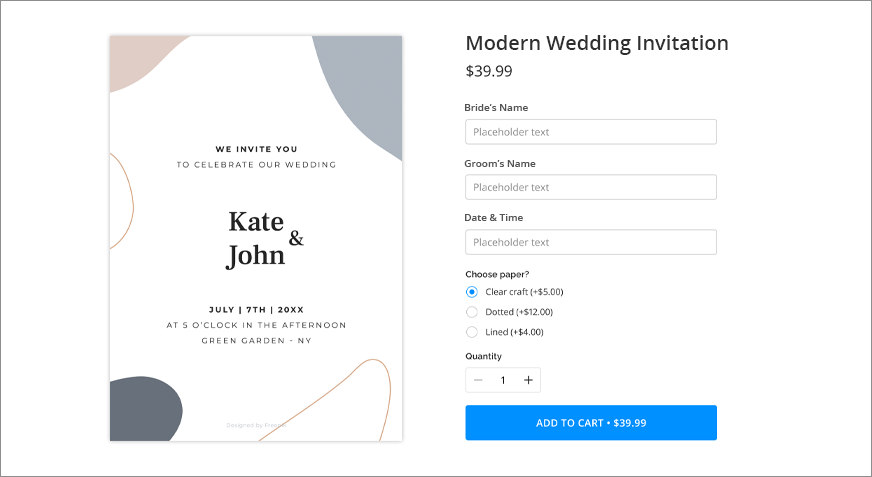 Upload-based editor. Your customers may have already independently prepared an invitation design in a program like Photoshop. In this scenario, you can provide an editor where they can upload their design and check it. A web-to-print solution with a preflight functionality will check their files for compliance with your printing requirements. For example, the customer will receive an alert if their design goes beyond safety lines or the bleed zone and whether the image resolution is correct. This step will save the bride and groom from disappointment over blurry images on their invitations.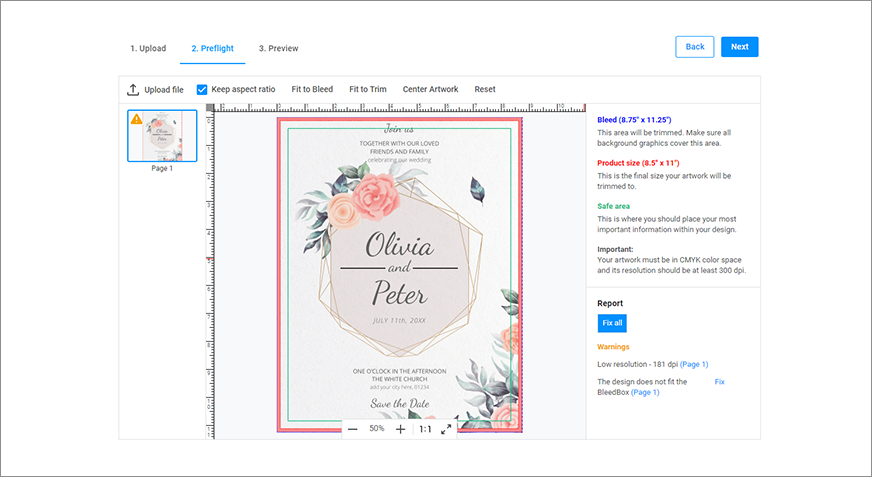 Template-based design editor. You will probably find the most versatility in applying a template-based design editor. You can prepare a library of professional-looking invitation designs for your clients to choose from. In this situation, your customers can edit predesigned templates that make them feel more involved in the personalization process.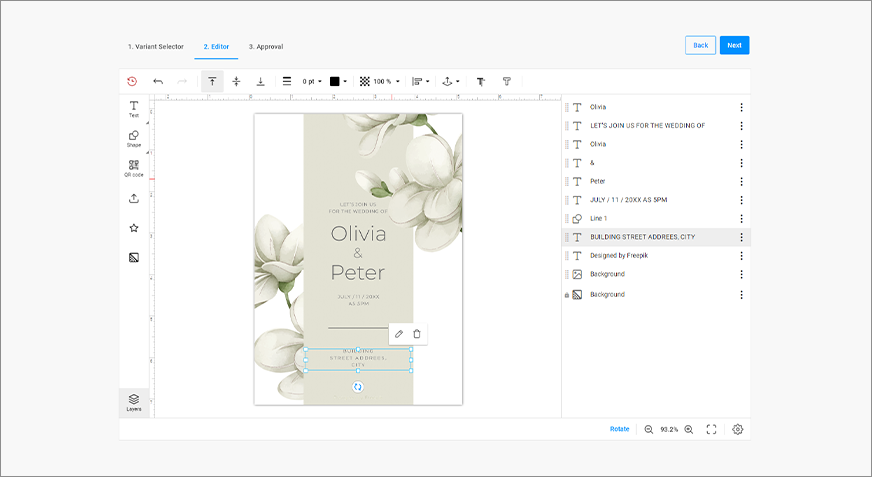 This web-to-print tool allows you to adjust the behavior of elements. You can let your customers move and delete all elements in the original template or set up restrictions on some of them. These elements will be locked, and the end-users won't be able to change them. These features help your clients easily create wedding invitations during an exciting albeit stressful time in their lives. They will be pleased and relieved to get an attractive, unique design without much effort!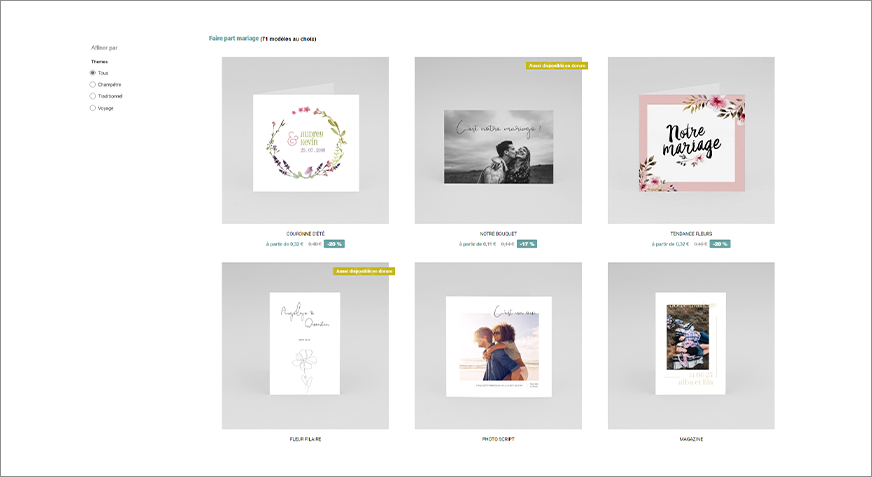 Build an intuitive interface
To streamline the personalization process for your clients, you can make the editor interface look more intuitive. For example, adding hints increases the interface responsiveness. You should also focus on optimizing the interface for different devices like mobile phones and tablets.
Note: The Customer's Canvas web-to-print tool has a feature where your clients can save their projects right in the design editor. So, if they haven't finished personalizing the product, they can return to editing at any time and on any device.
Define product options
Product options are properties that affect the product's appearance and price. When determining the options for invitations, you should rely on your company's printing capabilities. The editor interface will also depend on the set of options. Let's look at some of the core options.
Size and orientation. You can provide traditional rectangular wedding invitations with 4.5x6.25in dimensions. This option is perfect for customers who prefer classic styles. For those who want to break with tradition, there are additional options like custom sizes and horizontal orientation.
Style. Customers usually want their invitations to match the style of their wedding. You can prepare a library of stunning templates and group the designs by distinctive styles for easy navigation.
Plenty of art styles can be applied to invitations: classic, retro/vintage, watercolors, floral, woodland, marine, casual, minimalist, and many more. Impress your clients with something extraordinary, like boho style with an ethnic ornament or a modern feel with geometric patterns.
Shape. Let your customers change the shape of the template right in the editor. If they are not satisfied with a standard linear trim, they can select a different template shape, such as rounded or wavy edges.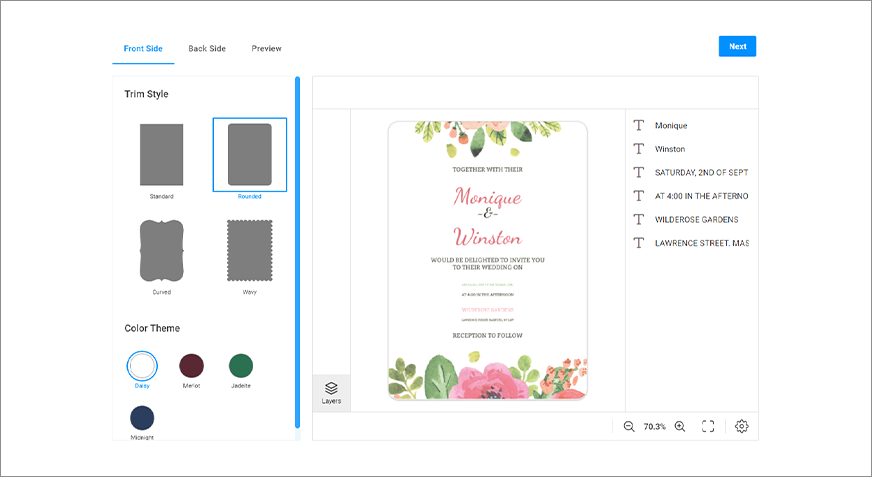 Fonts and color.  Applying elegant and romantic fonts is another great opportunity to make wedding invitations more personal. For example, cursive or calligraphic fonts will add lightness to the invitation design. Users can also make accents with their favorite colors. To prevent clients from getting too creative, you can prepare palettes with tried-and-tested color combinations.
Type of material. If you offer different printing methods, you can let your clients choose the material type for their product. Depending on your equipment, they can select traditional paper substrates (plain, craft paper, cardboard) or go with a more adventurous option like wood and plastic. Acrylic invites with engraving will make a lasting impression and serve as a keepsake for a long time.
Print embellishments. Consider offering special finishing options if your printing techniques accommodate them. Customers love options to add different embellishments to their invitations for a more memorable result. In the editor interface, they can apply finishing options like foiling, UV-coating, or embossing/debossing to any part of their design. For example, clients may want to foil their names on invitations or varnish the entire page. These options can affect the price of the final product.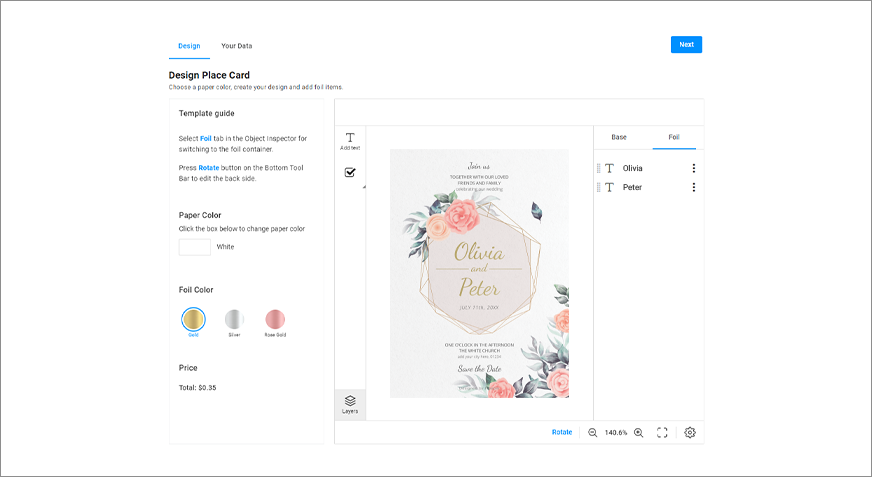 Note: You can also offer your customers additional services in preparing envelopes for invitations, tying them with a ribbon, or decorating them with lace. These services are an excellent opportunity to cross-sell organically.
Provide preview features
Previewing is an important feature that allows your customers to visualize how their final product will appear in real life. The preview quality affects whether the client ultimately submits the order or not. A preview shows the final design without safety lines. You can even display a 3D preview representing both sides of the invitation.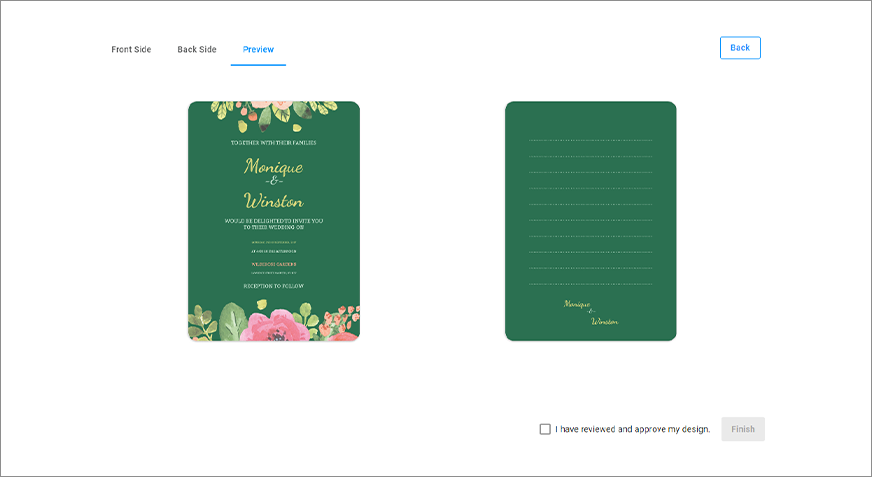 The preview option helps the customer review the final design and confirm the order if they're happy with the result. It's also an opportunity for clients to check the final design for misprints. If the user finds a mistake, they can return to the design editor and correct it on their own without communicating with the printer.
Web-to-print workflow for place cards
If your clients are planning a large wedding with many guests, place cards will make life a lot easier for them. Place cards help guests find their assigned spot at a table. Both place cards and wedding invitations usually match the broader theme of the wedding.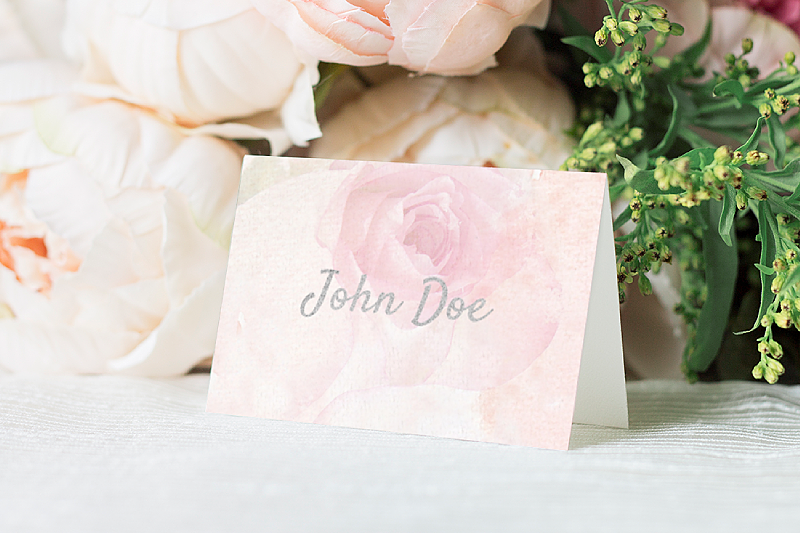 Apply VDP functionality
Imagine a wedding with 200 guests. To seat them properly – and promptly – you need to create place cards with the same design but different names. The design for some cards should also be distinct to denote special tables for the parents or wedding party. Entering all this information manually takes a long time and may leave your clients frustrated.
To streamline this process, utilize a design editor with a special technology called Variable Data Printing (VDP). VDP technology allows users to enter variable data directly in the editor interface. Customers can edit the design as usual and then insert their data into data fields. Clients with a lot of data can upload an Excel document, and the data will automatically populate the design. This feature saves a significant amount of time for your customers and makes the process more convenient for all parties involved.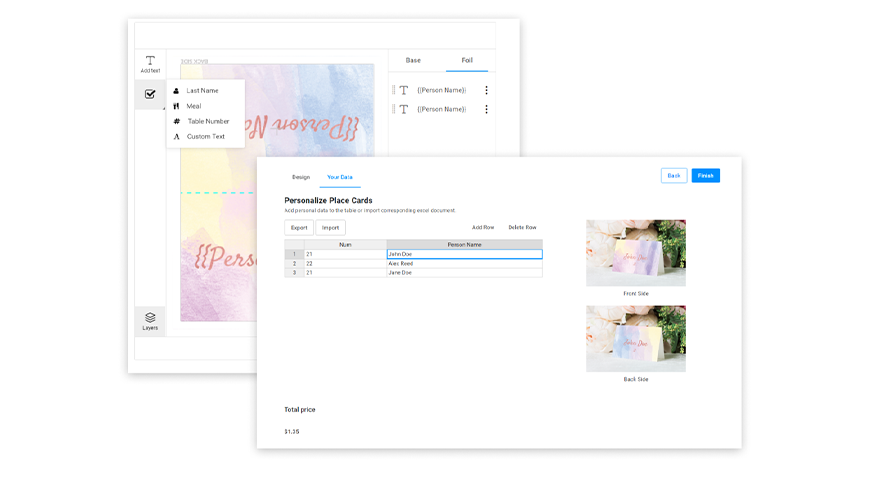 Note: VDP technology can be used to enter many types of information, including but not limited to names, table numbers, menu options, data, or any other variants. The Customer's Canvas web-to-print editor with VDP technology allows users to create their own variable data fields that they can fill in later.
Think over the options
Like invitations, place cards have various options: shape, size, or orientation. Let your customers choose a stylish place card from pre-designed templates and edit its options. For example, end-users may want to change the font or background color. Here, you can give them a hand with prepared palettes. To add that extra unique flair, allow your customers to choose the substrate type or add extra embellishments like varnish.
Show previews to increase conversions
The preview function helps your customers visualize how their place cards will look in real life. The design mockup can be displayed on a wedding table to really give them a feel for the final result. The more realistic the preview, the higher the chances the customer will purchase the cards.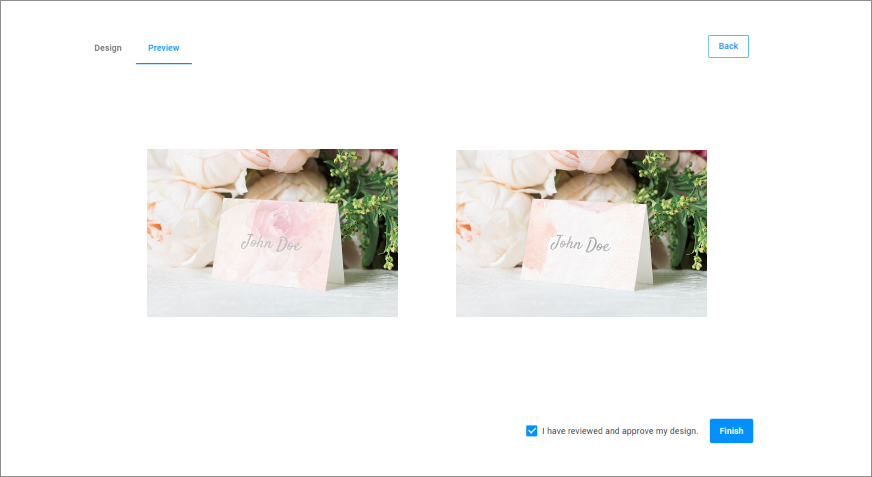 Automate your business with web-to-print
Selling wedding invitations or place cards online involves many moving parts. We've tried to break down common personalization scenarios for these products and their options to help you on your online selling journey. We hope you can use this information to choose the right web-to-print tool that meets your business goals.
Customer's Canvas is a versatile and capable web-to-print solution that can adapt to the needs of your company and the requirements of your equipment. If you are ready to boost your print product sales, feel free to contact us!