You can now provide your customers with an out-of-the-box option to save and store their personalized designs for further editing or ordering later. This feature opens up many possibilities to improve the customer experience for users who land on your website. 

Get repeat orders
Imagine that your customers need to order an additional batch of business cards or brochures that they ordered from you a week or two earlier.
Instead of searching for order details in long email chains, they can go to your website and find the relevant order in the list of saved projects and easily order it online. They can also edit the previous design if they want, such as changing the date of a sale on a flyer or entering new employee details on a business card.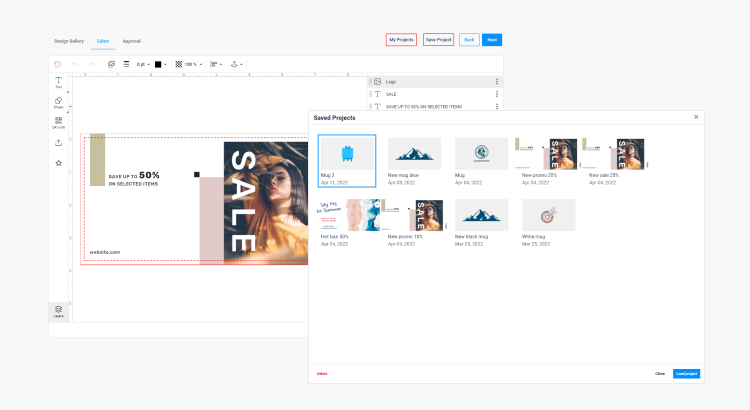 Your customers can carry out these functions directly within our editor. All saved projects are easy to locate and reorder. Your customers will enjoy an even more simplified editing process without spending time recreating a previous order or communicating with your team members.
Customers must log in to their store accounts to save and view previous projects. However, if they already started editing before logging in, they can still do so while personalizing the product without losing data.
Multiscreen personalization experience
This new functionality also facilitates the personalization process across different devices. Perhaps your client started designing a business card on a mobile device but then remembered an image they need is stored on their desktop computer. No problem!
Instead of starting the ordering process from scratch on a new device, your client can save the project on a mobile device, then log in to the online store on the desktop and finish ordering.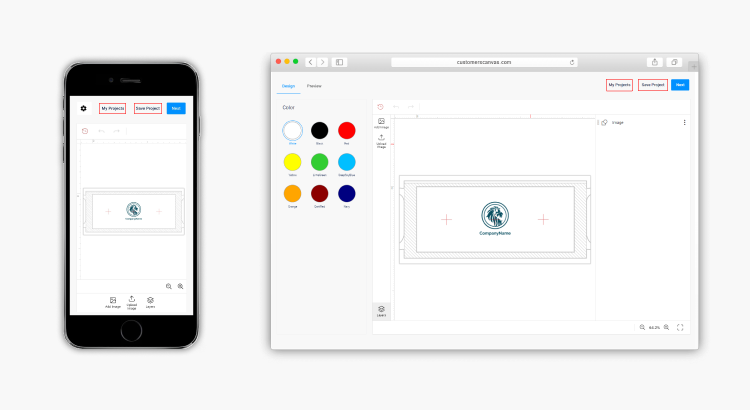 Enable for any e-commerce platform
You can enable the Saved Projects feature for any e-commerce platform you prefer: Shopify, WooCommerce, nopCommerce, etc. Projects will be displayed in both the editor and the order history.
Check out this feature in our Demo Storefront. Open any product and click on the Design product button. 
This feature is only available for Customer's Canvas BackOffice users.
Are you interested in making editing and reordering projects as easy as possible for your customers? Let us know! Our team will assist you in activating the Saved Projects functionality.