Another option for customers is to upload their own designs created in third-party publishing software like Adobe InDesign. In this case, they rely heavily on the human factor. If the designer didn't carefully follow the print-ready file specifications, the quality of the final product may not meet customer expectations. To avoid that kind of situation and keep customers satisfied, a good printer performs a preflight check to test the uploaded file for compliance with requirements like color profile, safety zones, adequate font representation, etc. This is a part of the prepress process that is essential for every print job.
Preflight checks on uploaded files are usually performed by sales managers or production staff and require a lot of resources if the print service provider is dealing with a large volume of orders. The ordering process may also take longer than usual when staff must communicate back and forth with clients to approve a final design. The solution for this problem is a workflow where uploaded files are automatically preflighted online without the need for manual review by managers and can even be fixed by a customer if necessary.
Customer's Canvas Preflight is an add-on that can enable these features on your website. Combining this module with the online editor provides you with a full web-to-print solution that can tackle most online ordering use cases.
How Customer's Canvas Preflight works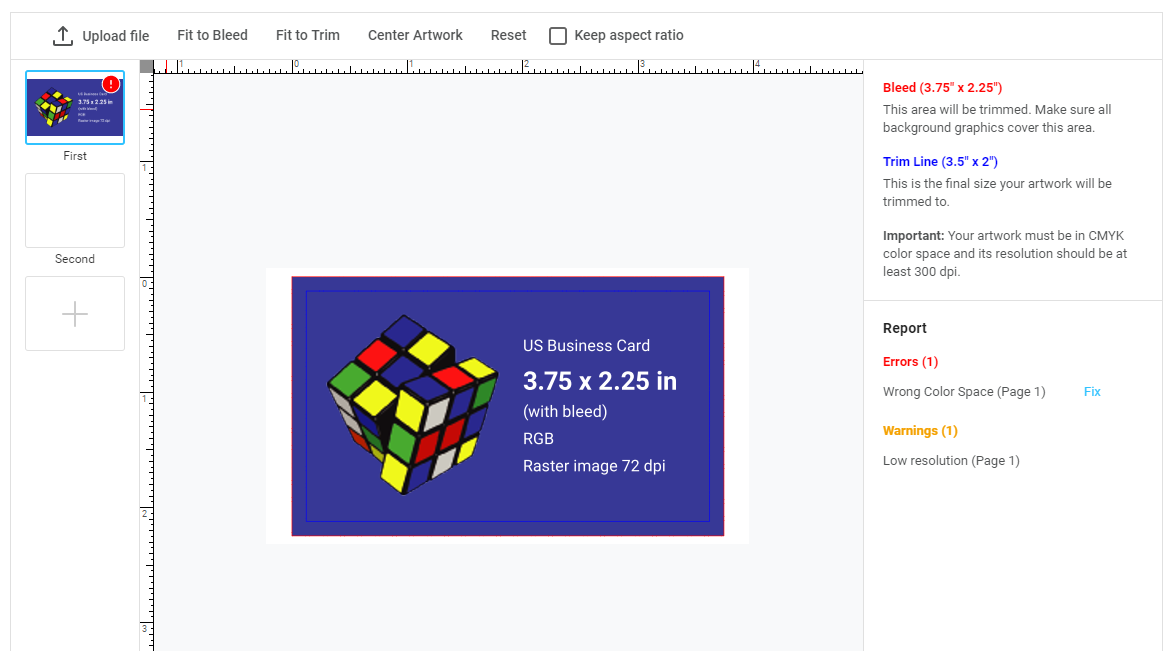 It starts with setting up rules that you want uploaded files to be checked against. The rules you put in place will depend on your workflows and requirements.
The following checks are available:
File format
You can require specific file formats to be uploaded by your customers. This allows you to protect your servers from shouldering the burden of unsupported formats in your workflow.
Image resolution
This check will test that all raster objects have a large enough resolution to be printed with decent quality. You may add a few rules, for example, to warn the customer that the file they are trying to upload is technically okay, but the quality is a little too close to the bare minimum of what is acceptable. You can also display a message asking for a file with a higher resolution.
The positioning of a customer's design on the document
The software will warn customers if some of their design falls outside the safety lines. If you set up a rule that requires a design to fill the area to avoid white space, it can be automatically enlarged. The user may also position their design while using the safety lines as a guide.
Color space
Make sure that an uploaded file was converted to a supported color space (RGB, CMYK, or Grayscale). If not, Customer's Canvas Preflight can automatically convert it to the right space using a pre-configured color profile.
Outlined text
The software can check whether or not the text in the uploaded file contains text objects. If some are present, then Customer's Canvas Preflight automatically outlines the objects if the correct font is installed on the server or embedded into the uploaded file.
Orientation
To help avoid situations where pages have different orientations (i.e. the front side is landscape and the back side is portrait), the software automatically changes the orientation of the pages. The user can also choose to rotate their design manually if they like.
PDF page boxes check
All uploaded PDF files must contain trim box, media box, and safety box metadata. The Preflight module will create a new PDF file with this metadata if it is missing from the uploaded file.
How your clients can use it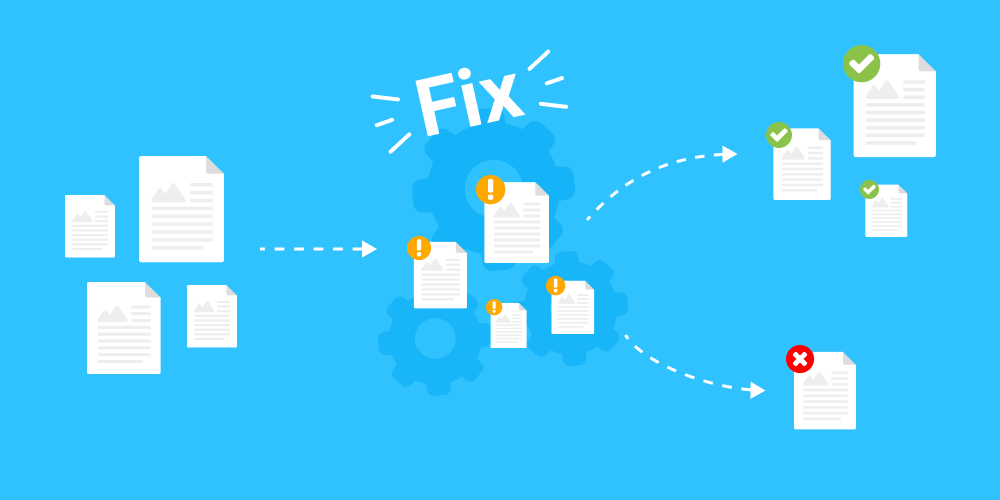 From the user's perspective, using Customer's Canvas Preflight is a pretty straightforward process. After the print-ready file has been uploaded, they will see a raster preview of the file along with an interface that tells them if mistakes have been detected or that all checks have been passed. If it catches a mistake, they see warnings or errors. Some of them are fixed automatically while others can be fixed right within the online editor on the user's screen. For example, the user can resize the design as needed. That can save a lot of time compared to a lengthy approval process.
Automate every possible ordering process
Customer's Canvas Preflight is the perfect addition to the Customer's Canvas online editor. It can allow you to accept online orders for designs created during the online personalization process as well as designs created with desktop publishing software. Keep your customers satisfied while keeping labor hours and costs low for your ordering workflow.
Meet our team at PRINT19 to see a demo of Customer's Canvas Preflight.
Our representatives will be presenting the Customer's Canvas Preflight alongside other exciting new technologies at the PRINT19 trade show on October 3-5 in Chicago. Stop by booth #131 to see how our new module can increase the efficiency of your printing business.