How cake manufacturers can stand out with a design editor
Wouldn't it be great to order a personalized cake for your celebration? With modern web-to-print technology, cake manufacturers can provide customers with this service.
These companies can integrate the design editor with their websites to let clients personalize the cake toppers online. For example, users can choose one of the pre-designed toppers and edit it by changing the background or adding captions. Using the design editor, clients can also upload their photos and order custom cakes. Personalization isn't limited to cakes – any kind of pastry or baked goods like brownies, cupcakes, and cookies can be customized.
You can offer to personalize fancy boxes for those clients with a sweet tooth for candies. Let them choose background patterns or add greeting messages with the web-to-print tool.
How real estate agencies can boost sales with web-to-print
Real estate agencies are businesses that require a lot of printing products like brochures, business cards, flyers, and even yard signs. Creating all these materials for each agent may be complicated and very time-consuming. Web-to-print integration will automate this process and let the agents focus on the relationships with potential home buyers.
Automating data population. In addition to the design process, creating promotional materials often requires the user to enter different information about each property. Some agencies have massive property databases containing addresses, the number of floors and rooms, and other information. To facilitate this process, pair a design editor with variable data printing technology. VDP allows you to transmit data directly from the database to the design editor interface. For example, agents can upload an Excel document, and the data will automatically populate the design. This technology saves time and simplifies the process for end-users.
Following brand guidelines. W2P can allow agents to create marketing materials that stick to their brand guidelines. In the editor interface, you can set up restrictions on some elements like logos or colors that prevent users from changing them.
Even businesses outside the printing sphere can leverage these web-to-print features to increase sales with materials like direct mail, which is still a popular marketing tool.
How food and gift delivery services can benefit from web-to-print
The packaging printing market is expanding substantially due to delivery services. People order goods online all the time, which has led to a growing list of requirements for packaging: reliability, convenience, quality of materials, and design. Businesses can use packaging as a marketing tool to help raise brand awareness.
With web-to-print, you can create a unique design for your packages without much effort. This tool allows you to select the package type, shape, and size or enter custom dimensions. Then you can choose a suitable template and start editing the design by changing the background color and adding text, logos, and images. Additionally, the editor interface allows you to personalize the inside and outside of the package.
You can increase the value of your packaging as a marketing tool by adding connected technologies like QR codes/barcodes, watermarks, and augmented reality. These particular web-to-pack features will level up your packaging sales. 
What new opportunities web-to-print technology brings to charity organizations
Web-to-print can aid charity and non-profit organizations in supporting patient programs. The Customer's Canvas design editor was integrated into a charity website where people can purchase merchandise inspired by the patients' artwork. Users can choose pre-designed products like postcards and envelopes, personalize them by editing messages, and place their orders.
Such projects help patients share their artistic talents, and the integration of web-to-print tools into the charity website lets visitors buy unique custom products and provide financial assistance.
What plumbing and electrical services can take from web-to-print
Plumbing and electrical companies also need a variety of industry-specific printed labels, such as call-for-service labels, equipment/safety inspection labels, maintenance record labels, and several others that serve different purposes.
These products help the property owner easily find the phone number of the contractor familiar with the facilities. The labels serve a dual function as advertising materials that help companies build business relationships and receive repeat orders.
Thanks to the intuitive nature of web-to-print technology, even people without much design experience can easily personalize such labels. They can choose pre-designed templates and edit them by entering information about the company, like the name or address, and uploading a logo.
How web-to-print can streamline interior decoration
Home renovation is a challenging and stressful undertaking. Everyone wants their interior design to be a unique expression of their personal style. Adding custom details to home décors like different pieces of furniture, bespoke wallpaper, or wall murals can help one achieve their dream space.
House repair companies can implement a web-to-print editor to help facilitate the selection of these customized elements for their clients. You can prepare a library of professionally designed templates and group them by art styles like minimalist, modern, vintage, boho, and many more.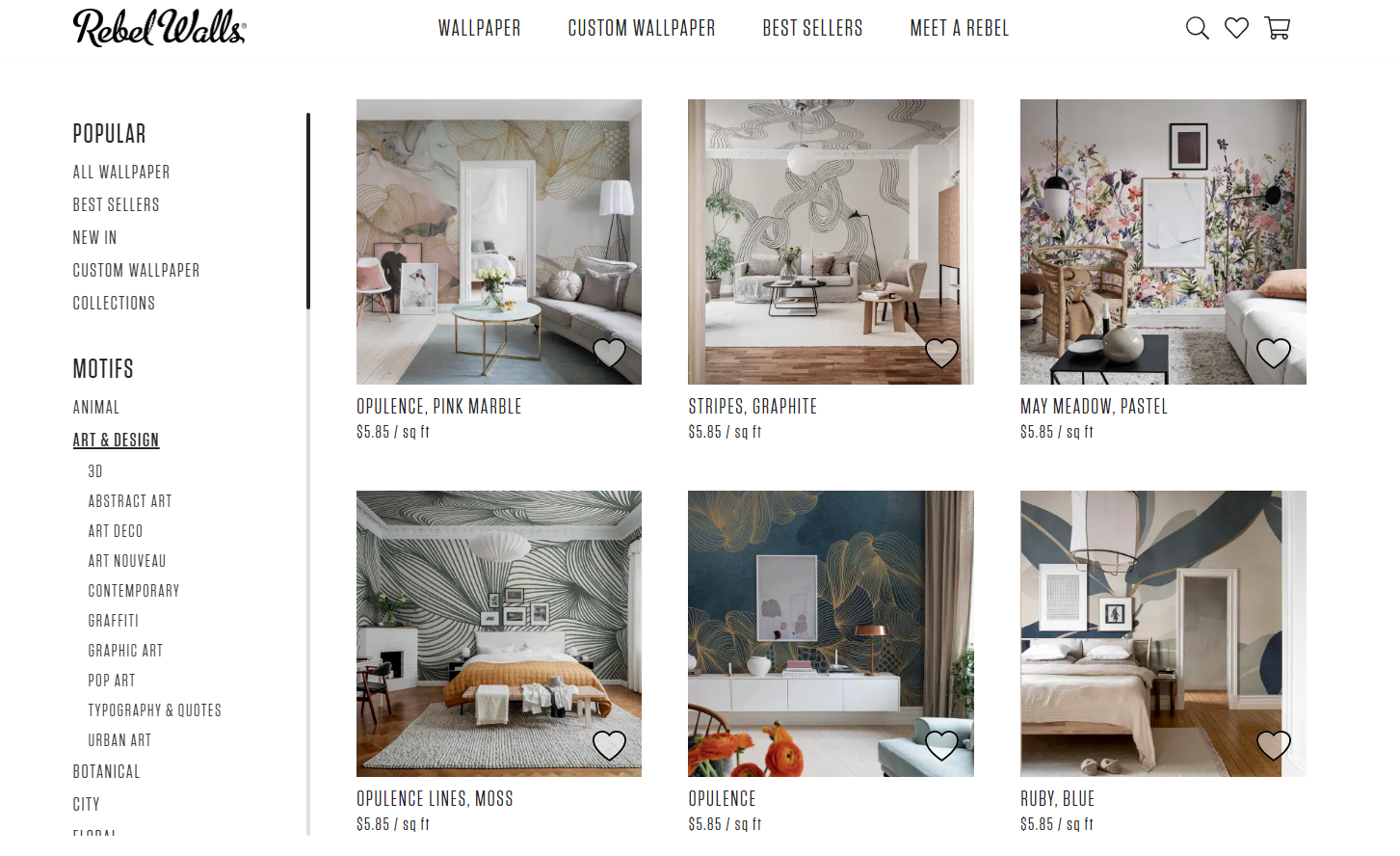 Your clients' choice of new wallpaper is only limited by their imagination and the size of your template library. You can offer a broad range of styles for many tastes, such as floral ornamentation for clients who prefer a natural style.
If your clients want to order a photo wall mural, you can let them upload their own image and order a guaranteed unique interior element. In such cases, the web-to-print integration will help reduce the time spent approving the design.
How to increase jewelry sales with an online editor
If you make custom jewelry, web-to-print technology will help your clients create a unique design and place an order. People who love unique custom jewelry can buy such items on special websites and marketplaces like Etsy. Clients can personalize almost any jewelry, including rings, bracelets, pendants, and earrings.
Give your clients a helping hand by integrating a design editor that lets them choose the material (silver or gold), the size of the item, the font, enter the text, and even upload a photo. You can set the available options to edit depending on your technical abilities. These options will also affect the price of the jewelry item, providing an opportunity to increase your sales. These features will make ordering custom jewelry easy and convenient for the business and the client.
How a design editor can make cosmetics manufacturing unique
Cosmetic producers can provide their clients with custom-designed labels. Utilizing a web-to-print editor will allow them to create label designs online for different beauty products like lipstick, mascara, or perfume. For example, your clients may want to purchase perfume as a gift and personalize the label. In the design editor interface, they can choose a suitable label template and edit it by adding a name and uploading a photo to the design.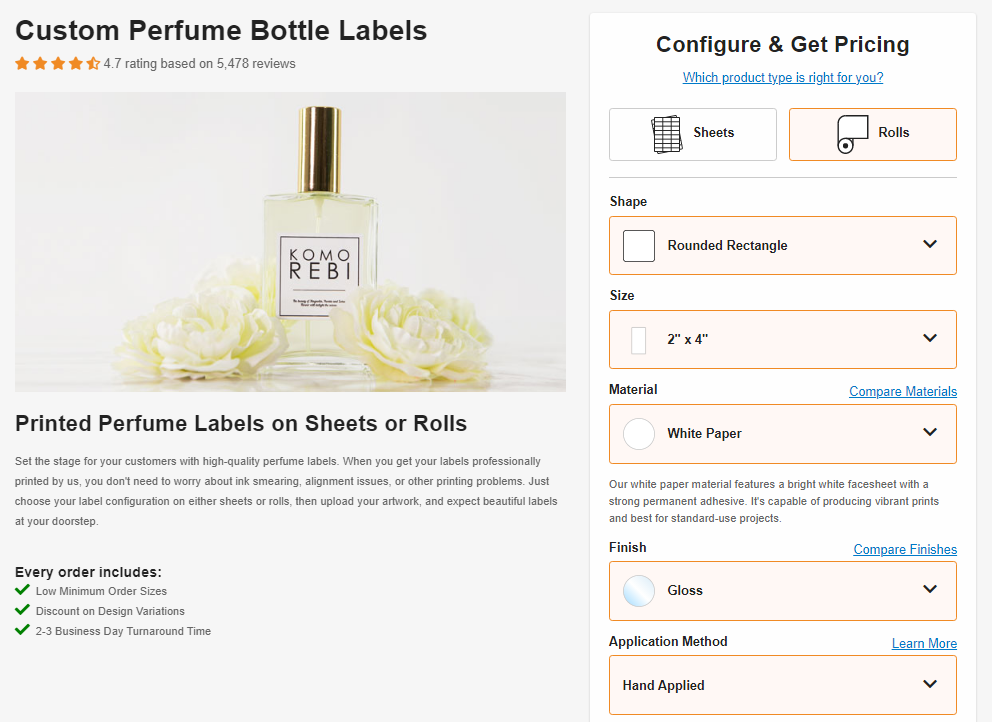 The embedded preview feature gives the customers a better idea of how their final product looks and a chance to check it for misprints. If any mistakes come up, your clients can quickly correct them before the item goes to print. Seize the chance to boost sales by offering customers additional print products related to their current orders. For example, display a greeting card with a matching design can also be personalized.
Let's talk about your project
You might have noticed by now that modern web-to-print technology is incredibly flexible. W2P solutions are versatile enough to utilize in almost any business – not only in the printing industry.
The Customer's Canvas team draws from a deep well of experience from integrating web-to-print with companies across various industries. We can perform custom development for your particular case and adapt web-to-print to your requirements.
Feel free to contact us. We will be happy to assist with your unique project!