The team worked hard at the end of last year and on New Year's Eve we released new Customer's Canvas – version 3.1. Since it was the holiday season which could make the release go unnoticed by clients, we decided to delay all marketing activities by a few weeks. Now when everybody is back after having great time with families and friends on the holidays, we are happy to present you the new features included in the release.
Text improvements
Now Customer's Canvas supports multi-column text layouts. If your products include large amounts of text, e.g. magazines, this feature is extremely helpful for you. The editor allows breaking text layers into multiple columns both in PSD page templates and in the user interface. This way, it enables you to "pre-program" page layouts even at the designing stage before the end-users sees it loaded in the editor.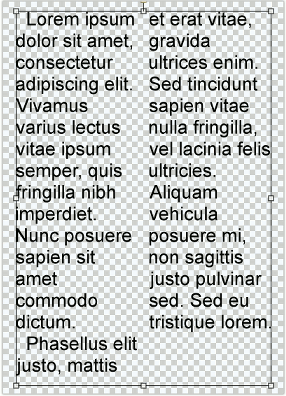 Also it is now possible to wrap text layers inside shapes, for example, like this: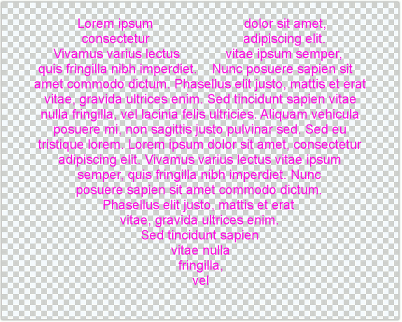 Customer's Canvas can now load rotated text layers from PSD templates. This feature was among the most popular our customers were asking for.

Anonymous user sessions
Previous versions required receiving a userId prior the designer loaded on the page. UserIds help Customer's Canvas link a session to a specific user account registered on the host site. The approach when a userId is passed up to the designer at the initialization phase without any chance to change it on later stages required web-to-print sites to make users log in before they go to personalizing a product.
User experience specialists suggested that having the user to log in right after s/he comes to the website significantly reduces conversion rates. So, we received a lot of requests to remove this limitation. You say – we listen. Version 3.1 allows for merging user accounts. Let's say the user starts browsing the website in anonymous mode and then s/he logs in after starting to design a product. The new Customer's Canvas allows you to work it around and merge the temporary anonymous account with the actual one.
Changing product templates at run-time
Now Customer's Canvas allows for changing product templates after the user opens the designer and begins personalizing a product. This feature came from user experience specialists as well. Let's say you want to order a business card - you select a template and begin typing in your contact information. Halfway you realize that you don't like the template and you want to choose another. Previous versions of the web-to-print designer would require you to fill out fields in the new business card all over again, whereas version 3.1 allows you to keep changes you already made in the product.
That was not all the changes and improvements we made in version 3.1. For full details and technical information, feel free to refer to the change log.